Cost of holiday accommodation in Bulgaria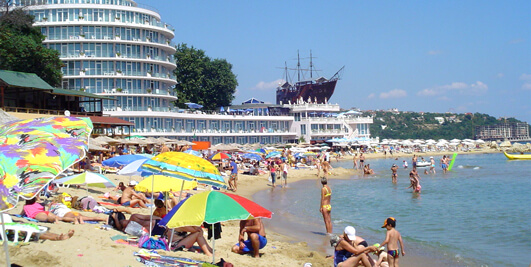 Staying in multi star hotels is wonderful, but if you are on a limited budget, and you cannot afford such a stay, that is not a reason why you should give up your holiday plans. In Bulgaria there are many other options of accommodation for those who have allotted a limited amount on their holiday.
You can use two main options. The first one is to book in advance, with the aid of the Internet. It will be convenient for you if you are planning to travel with a lot of luggage, with your family and kids, or if you are of the type who likes to have their holiday details arranged in advance.
The second option is to look for accommodations after you arrive. Then you will have higher chances of finding really inexpensive accommodation, but it also involves the risk of not finding anything suitable. So it will be better for those who love adventures, are impulsive, and prone to exploring unknown settings.
Your holiday accommodation in Bulgaria
There are several popular options of finding your budget accommodation:
You can split the rent of a villa with someone else;
You can rent accommodation not in the resort, but in the nearest town or city;
You can stay in a family guest house in the resort.
Let us dwell on these options in details.
Renting a villa in Bulgaria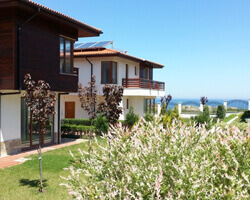 Few tourists would think of renting a villa when they are planning a budget holiday. Yet in Bulgaria you can find quite affordable villas, including villas in the areas on the coast, which are offered to all tourists willing to rent. The rental is usually offered for the whole villa, not per person. That is why, if you intend to rent a villa with friends, splitting the amount will make it quite inexpensive.
Often villas for rental are offered not by Bulgarians, but by foreigners who own properties in Bulgaria. So you can find adverts of rentals on international sites offering holiday accommodation.But better look on Bulgarian sites: there are far more adverts there, and you will not have difficulty communicating with the owners in English.
There can be pitfalls: you must obligatorily make it clear with the owners if there are limitations to the number of people who can live in the villa, and if the number of people renting will affect th overall cost of the rent. It would also be prudent to negotiate in advance who will pay the electricity and water bills.
Renting urban accommodation in Bulgaria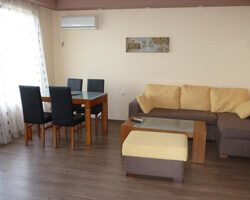 Resort complexes in Bulgaria are entire separate regions, where exclusively hotels have been built, and they strive to obtain the maximum profits for the short holiday season. You should not hope for a discount or reduced rates during the high season: not a single owner would like to miss larger potential profits.
Things are different in cities and towns along the coast. In these cities and towns (such as Varna, Burgas, Byala, Sozopol) prices are always lower compared to those in resorts. That rule applies wholly to rentals as well. Many owners offer their accommodation throughout the year for quite affordable amounts. Well, renting for a shorter term will be somewhat more expensive, and yet it will be more affordable than paying for a hotel room or for a room in a luxury apartment block on the coast.
There can be pitfalls: you had better learn the address and look it up on the map in advance. Then look for information available online about the area. You may book accommodation from which you will have to reach the sea coast by bus, or it may be located in a noisy area: these are details you should be informed about in advance.
Family guest houses near resorts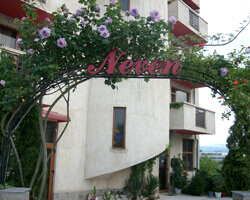 Along the Black Sea coast, all resort spaces are built on with apartment blocks and hotels. But if you travel a little further inland, you will find a host of resort towns and villages where signs like "Kushta za gosti" (meaning "guest house") or "Stai pod naem" (meaning ""rooms to let") are common. These are the so called guest houses; they are a type of B&Bs, with no star rating indications. The prices in them are usually lower compared to hotel room costs, and your holiday as a whole will cost you a more reasonable amount.
There are pitfalls: usually guest houses do not have sites on the Internet, so it is a difficult task to look them up before you arrive. And sometimes prices there can also be inexplicably high, just like prices in hotels.