Food prices in Bulgaria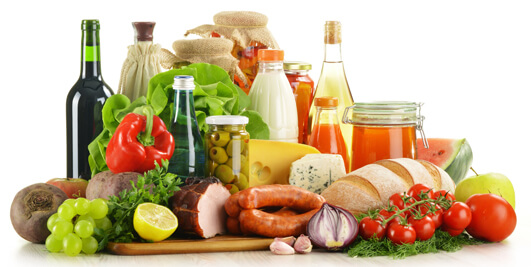 The food prices in Bulgaria have changed significantly since 2019, when this article was originally wrote.
Current (March 2023) prices are way above average, and people's confusion is growing.
There are several food price trackers, I highly recommend taking a look:
The following are country's biggest shopping chains:
https://www.kaufland.bg/broshuri.html
https://www.lidl.bg/novi-predlozheniya
https://www.billa.bg/promocii/sedmichna-broshura
* if you see the prices in Bulgarian lev (BGN) – the exchanging rate is 1EUR = 1.95BGN
——– Below info outdated and is for 2019.
The prices of food in the country are reasonable, lower than those in other European countries. It all depends on how your meals are organized: there are different costs if you buy snacks in the street, shop for food in supermarkets, and dine in luxury restaurants.
Food prices in Bulgarian shops
The prices of foods in different categories are very different.
Seasonal fruit and vegetables in the country are not just cheap, they are very cheap. Of course, if you buy them not in the resort shops; you should head for open air markets or chain supermarkets. Cherries, apricots, peaches, apples, they are all worth one, maximum two BGN per kilo. When the vegetables season comes, vegetables are even cheaper.
Dairy products in the country are also very cheap. But that applies to locally produced ones; products like cottage cheese and buttermilk, which are not typical for Bulgaria, cost more. Imported cheeses also cost much more than Bulgarian ones. The cost of a bucket of local yoghurt is from 0.50 BGN upwards.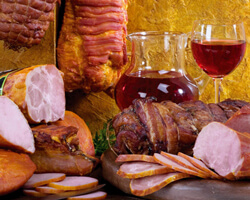 Prices of pasta start from 0.60 BGN for 400 g (which are made from soft wheat sorts and get sticky when boiled) and reach 2-3 BGN. Ordinary rice costs from 2 BGN upwards. A kilo of ordinary flour is a little more than 1 BGN, a kilo of sugar is 1.3-1.6 BGN.
Meat. The price of a whole refrigerated chicken starts from 5 BGN upward, and when you chance on a discount, you can also buy one for 3 BGN. Pork is a little costlier: 5-6 BGN. Beef and mutton are considerably more expensive, not less than 10 BGN per kilo.
Different meat delicacies can be found at very reasonable prices. However, the low prices are easy to explain: there is little meat in such products.
When in Bulgaria, betterstick to the diet comprised of fruit and vegetable, with delicious local dairy products added for diversity. That diet is inexpensive and delicious.
Eating in the street in Bulgaria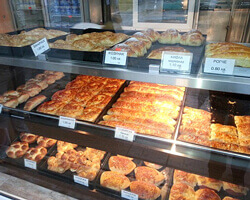 You can have a snack in the street quite cheaply. For instance, a sufficiently large pastry piece or a sweet bun, also large enough to fill your stomach, cost around 0.50 BGN and upwards. If you get a coffee from a slot machine, it costs 0.50 BGN. Here is a good lunch for just 1 BGN.
Fast food with meat will cost a little more, starting from 2 BGN upwards per a pizza slice, a dunner, or a hot dog.
The cheapest ice cream costs 1 BGN per cone. In gelaterias you will buy ice cream for 1-1.5 BGN per ball.
A portion of pancakes with jam, chocolate, etc. is worth 2 BGN. Bulgarians consider pancakes a dessert, but they are also suitable for a substantial snack, so if you feel like eating a portion for lunch, it will fill you up.
Bulgarian restaurants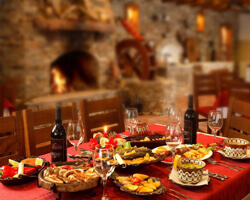 You will find that prices at restaurants very, depending on the class and on the restaurant location.The nearer the restaurant is to the sea, and the more sophisticated the décor, the higher your meal will be worth. Of course, there are pleasant exceptions to that rule, but you can only find them through the method of trial and error.
On average, salad prices start from 3-4 BGN for a large portion.
Hot snacks cost from 4 to 10 BGN. There you will find grilled mushroom, nuggets, baked cheese, stuffed peppers, and many other meals. Portions are sufficiently large, so if you like hot snacks, you can have them instead of a hot meal.
The variety of soups in tourist areas is usually limited to tarator (cold yogurt soupwith cucumbers) and "pileshka supa" (chicken soup). Prices start from 2-3 BGN per portion.
Hot meals usually comprise grilled meat or fish, or stewed meat with vegetables. Portions can be very large, so if you want them to be eaten, better order one portion for two people. Prices start from 8-10 BGN.
Wines are sold by the bottle (at prices 30-50% higher compared to those in shops) or as draught wine. The latter is not of very high quality, but again there can be exceptions. Soft drinks prices start from 1 BGN per glass of water or a small cup of coffee upwards.
Takeaways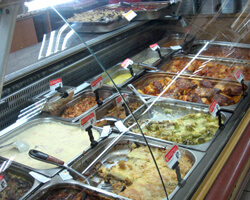 In many shops where takeaway hot food is sold, there are evening sales during the last working hour. Discounts of up to 30% are offered.
In the remaining period it is not advisable to buy takeaway food, because prices are rather high. They are indicated for 100 g of a meal and make them seem cheap, but at the end such a purchase will set you back by a large amount.
As for the quality of takeaway food, it depends on the shop. Well, you will not get poisoned, but the taste will certainly be inferior to that of restaurant meals.