Private day tour in Kazanlak, Thracian Tomb and Shipka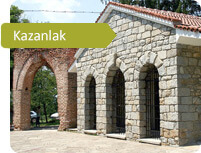 Explore Bulgaria can be closer to a comprehensive tour, which includes inspection of Thracian tomb of Kazanlak and other attractions, as well as familiarity with the heroic history of Shipka. These famous Bulgarian place a must visit every self-respecting tourist, even if he came just to relax on the golden beaches of the country.
It's our goal to organize everything properly so that you can enjoy discovering new locations undisrupted.
Our driver guide picks you up right from the door of your hotel room, the tour itself starts whenever you choose to.
The day tour are held in English, the guide can also be a valuable helper when communicating with the locals. The can aid in the translation and finding of information.
All throughout the trip, stops and rest points are provided. You choose when to stop fro lunch, dinner to take pictures or buy souvenirs. The local knowledge of our guide will prove indispensable when buying souvenirs.
To ensure your comfort when even provide car safe child seats that are installed in the vehicle transporting before we come and get you.
Kazanlak was built around the sight of an ancient Thracian city. The area is filled with Thracian tombs, the most famous and substantial of which is the Thracian King's Tomb. Despite that, the most famous and visited landmark remains the Rose Valley – a place where the unique rose oil is sold all throughout the world is produced.
The viscinity if the valley also holds the Kazanluk Mineral Baths – a series of natural springs with healing properties. Near them is beautiful reservoir Koprinka. Towering over all of this, built atop the mountainside, is the substantial Shipka monument commemorating the heroic sacrifice of Bulgarian and Russian soldiers who fought for the liberation of the Bulgarian Kingdom from Ottoman rule.
Our team will be happy to show you these and a lot more attractions around Kazanlak, all you have to do is leave a phone number with your application form and we'll do the rest.
How to book a day tour with us?
Estimate
Send us your requirements using the form below
Booking
We will send you an estimate and confirm details
Ready to travel!
We will pick you up at your accommodation
You haven't booked a tour yet? Want to go to new and undiscovered places and avoid the typical paths of the Bulgarian tourists? Maybe a trip to a neighboring country will do the trick?
We will be happy to develop a special unique tour for you, done with individual routes. Multi day trips are also possible – we'll organize everything from the tours to the sleeping arrangements.