Tour in Kazanlak, the Valley of Roses with a campaign on Buzludja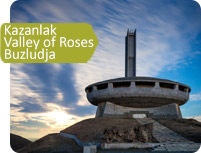 Most people connect a vacation in Bulgaria with a seaside vacation, sun bathing on the beautiful beaches and delicious food. If you are tired of the monotony that such a vacation would bring, and would like to see something different from the seaside, the pool of your hotel and the same attractions all over again, we suggest you go on a trip. One of these trips is the one our company is organizing to Kazanlak, the Valley of Roses, the Valley of the Thracian Kinds and a trek to the Mount Buzludzha summit.
You will be amazed at the views you can see from the ancient town, enjoy the organic smell of fragrant fields of roses – truly a unique experience. Your accompanying guide will teach you more about the history of the region and the sights you are visiting. Learn more about the tombs of the Thracian rules and Mount Buzludzha.
All of our trips are organized by specialists with extensive knowledge of the history and culture of the country. We take into account the traditions and local culture to create the best trips.
Be accompanied by an English speaking guide who will answer all of your questions in an understandable manner.
The vehicle you will be traveling in has full air conditioning which you can control, as well as anything else that you may need for a more comfortable trip.
Bring your children as well, we have special child safe car seats for them –free of charge.
We'll take you straight from your hotel in the morning and take you back one the trip is over in the evening – all is included in the price.
How to book a day tour with us?
Estimate
Send us your requirements using the form below
Booking
We will send you an estimate and confirm details
Ready to travel!
We will pick you up at your accommodation
What a better way of getting acquainted with the country than being accompanied by a professional. This is what we'll be offering you! Submit the simple online application on our website and we'll contact you to confirm the trip and plan its route, stops and other details. If you wish it's also possible to create individual routes just for you.