Tour to Melnik and wine tasting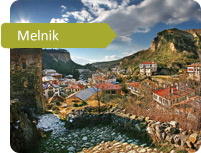 If you are tired of the blinding sun and scorching beaches, you can take advantage of the day trips we offer to Melnik – a charming corner of Bulgaria and the smallest town in the country. Along the way you will enjoy spectacular scenery and the unique nature of the region.
Melnik can offer you a lot of interesting discoveries, one of which can be some of the most famous wines in the country.
We will try our best to ensure that your trip is as comfortable and carefree as possible.
The tour is booked without the need of advance payments. Pay after the tour is done, directly to the driver-guide.
Tickets to museums and other historical sights around the country are covered by the cost of the trip.
During the trip you can stop at any point, either for a break, to enjoy the view and take a few photos or to taste the local cuisine.
No need to get out of your hotel – we'll pick you up from there and take you to your destination. The tour ends when you say it does.
To book one of our tours all you have to do is fill out an application on our website. Submit a phone number and our manager will contact you finalize the booking.

How to book a day tour with us?
Estimate
Send us your requirements using the form below
Booking
We will send you an estimate and confirm details
Ready to travel!
We will pick you up at your accommodation
Our team is capable and ready to accommodate your traveling needs and wishes. Change the route of the tour or supplement it with additional attractions – you decide. If you want our team can even create a brand new, multi-day tour – from pilgrimages to monasteries or travel to remove places in Bulgaria. Available also are excursions to neighboring counties.