Car hire in Bulgaria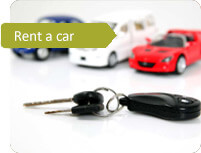 While traveling abroad it's important to do it in comfort and style and we are the company that can help you achieve the comfort you deserve. New cars, low prices, minimum documentation for registration – get a rental car in Bulgaria and decide where you want to head to on the go. Don't deal with public transport or taxies, instead enjoy the road in one of your luxury cars – we are exactly what you need.
Our advantages
From the benefits bellow it should be evident what the benefits of renting a car from us would be.
With us you get free car delivery to anywhere in the country – get a car delivered to Sofia airport, Varna or Burgas, to your hotel or to any other large settlement in the country. For a small fee we can even drop of the car to neighboring countries or smaller settlements in Bulgaria.
There are no fees when returning the vehicle to the pick up location. If you don't have the time to drop of the car there, for a small fee you can leave it in another location in Bulgaria instead. This option must be mentioned before renting the car, however.
Rent a car, get a driver as well. So you want to travel in comfort and style, but can't be bothered to drive the while time and spend it behind the wheel? Our company will provide you with a trained professional driver. You can choose between a Russian or English speaking driver – you have full control. The cost of the rental is the same, in addition to 25 euros for an 8 hour work day. After hours working is 10 euros per hour for an economy class rental and 20 euros per hour for a business or luxury rental.
The car you will receive will be fully cleaned. Our customers get only clean cars – both inside and out. We can guarantee that there won't be any debris, dust, scores on the upholstery, ashy smell from cigarettes and so forth.
Renting is free of hassle. All you need to rent is a passport and a driver's license, no need to contact an attorney or show us any other certifications.
Renting with us saves you time. The documentation process takes no more than 15 minutes, after which you can immediately get behind the wheel of your vehicle.
All tariffs for renting are fixed, in them we include all taxes as well as vignettes for the toll roads in the country.
Payments can be made immediately in any currency that is most convenient to you. We accept US dollars, Euros, Levs. No need to use a credit card and get your money blocked by a bank while booking – all payments are done on the spot without any risks. If you wish you can pay the rental fees via Pay Pal or even with a bank transfer.
Cost of the rental known in advance. We will inform all customers in advance of the payment values of additional services which have not been mentioned in the base rate of the rental car. One good example is when booking the vehicle for more than one driver or opting for the no-return option. We'll calculate the additional costs and let you know how much in advance before booking. It is convenient, that way you won't have to worry about how much it will cost when renting the car.
The minimum rental period is 24 hours. Use the vehicle as long as you need, we will not make you overpay for the extra days the car was not used.
Enjoy unlimited mileage for leased cars used on the territory of Bulgaria. If the car has been rented for a day, the price of the car includes up to 300 km. Additional mileage costs 0.10 euros per kilometer.
Renting is possible by inexperienced drivers. Leasing cars to drivers and citizen who have not turned 22 at time of the renting is possible, as well as renting to people with less than 2 years of driving experience. In such cases, while renting is possible, we do have a special "young driver" cost which is 4 additional euros a day. In cases where the driver does not have much experience the security deposit is increased double.
There are additional services customer can book to make their travel a lot more convenient. We are offering the renting of child seats and boosters, special GPS-navigation with official Russian maps retailing the local roads, Wi-Fi routers and snow chins specially fitted for the wheels of the rented vehicle.
Renting can be done without any additional pre-payments. Payments when reserving vehicles is done only when reserving a specific vehicle long in advance. If the vehicle that has been reserve long before the trip is not available at that time, we will provide a similar vehicle, or a car of a higher class without any increased rates. In cases where no replacements are available, to rectify the situation all money is returned to the customer, include the reservation fees paid earlier.
You can cancel any time. The cost of opting out of an already booked vehicle is 10% of the cost of the renting. If the customer does not come to the place of the renting, no refunds will be issued.
New cars provided, everything from Nissan, Renault, Dacia – everything from economy cars to SUVs and even minivans. The age of the vehicles for hire is at least one year. All cars undergo regular check ups at the official dealerships of the cars.
All cars are fully auto insured for all kinds of damage. They have Hull and CTP insurance. They are in place to protect our customers from any unpleasant situations on the road. The insurance covers all damage to the car, from small fender benders to large accidents – you won't have to use your own money to fix the car, we have you covered.
All cars are received with a full gas tank, the customer does not have to refuel. When getting the car you don't have to search for petrol stations, get the car and immediately get on your way. When returning the car it needs to be with a full gas tank, if you don't have the time a charge of 1.50 euros per liter will be charge in addition to a 10 euros charge for the service of refueling.
When renting the vehicle you get 24/7 technical support.
You can travel abroad after prior arrangements with our team. Traveling abroad must be mentioned beforehand, traveling outside of Bulgaria requires additional powers of attorney.
Renting a car with our company is easy. No need to call anyone, simply fill out the booking form located on our website and our team will contact you as soon as possible for further details – all is done remotely.
The cost of rental
You can rent a car in Bulgaria for periods starting from 24 hours to several months at a time. The base price of all cars is listed in the tables bellow.
Depending on the vehicle, a deposit from 200 to 400 euros will be needed.
The base cost of renting a car with us will increase provided the following services have also been booked:
Returning one of our vehicles in a place that has not been mentioned on the list of cities with one of our dealerships (this includes outside of major populated areas in Bulgaria and in other countries, etc..)
One-way rental – the car is not returned to the original place of lease, but is left in a different location.
The tariff "Young Driver" for drivers with less than 2 years of experience and younger than 22 years of age.
Renting the vehicle for an additional driver.
Renting a vehicle with a professional driver.
Additional services
On request the vehicle can be equipped with:
A GPS-navigator with maps in English
Wi-Fi router with prepaid internet
Child car seats or boosters
Chains on wheels
Customers are free to use their own equipment, if they have personal GPS- navigation systems or Wi-Fi routers. We do not discourage it at all.
We guarantee:
Complete technical servicing of the cars.
We only have new cars in our car parks. Before the vehicle is given to the customer, we inspect the car to ensure that it is in good technical condition and that all vehicle systems are operating properly. In case of problems which have occurred after the car has left the lot, we will provide the customer with around the clock technical support to ensure the problem is rectified.
The car has full Casco insurance.
You risk nothing when traveling in Bulgaria. The insurance fully covers any damage to the vehicle in case of accidental damage. The full cost of the repairs will be covered by the insurance, you are no liable and will not be expected to cover the costs of any repairs, however sever they may be.
Car will be clean and free of cigarette smoke and other unpleasant smells.
The salon of the car is regularly cleaned using specialized car vacuums and detergents. Before presenting the vehicle to the client, we make sure that it is as clean as we first bought it.
Comfortable payment options and care return policies.
You can return the vehicle at any location in Bulgaria. The cost of the leased car and any additional services is announced beforehand. We will not charge you fees that have not been announced and agreed upon in advance. No nasty surprises and hidden charges.
Cars are supplied at the agreed time, date and location.
We will be right on time, the car will be delivered to you at the previously agreed upon location and places chosen by the customer. You will not be left waiting for our representatives. The drawing up of the contract for the transfer of the vehicle is expedient and hassle free.
Book your car now!
Leave a request for a rental car and we will contact you within 20 minutes to confirm the reservation and go over any outstanding fees and to discuss the cost of the lease. We will quote and confirm all of the prices and costs, counting all additional services so you can properly plan your budget.
To get to the vehicle of your choice, all you need to do is come to the place of your choice and pick up the car. Most often that location is the airport at which the client is landing.
Registration and paperwork is all done by our staff in a short notice, no need to wait for hours, all will be over in 15 minutes. After you've signed the lease and submitted the proper documents, the vehicle is yours for the leased time. We hope that you travel through Bulgaria in please, to facilitate that we'll provide you with a comfortable car at a great price.