Taxi in Kiten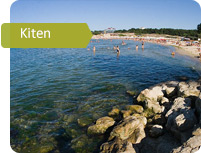 Kiten is a small coastal resort town, which tends to be popular with those looking to get away from it all on their holiday to Bulgaria. Here visitors are able to enjoy stunning sea views, dramatic dunes and the rolling, green hills found just inland – all in all, it's the perfect destination for anyone with a love of pure nature!
If you're planning a holiday to Kiten this year, then why not talk to AroundBulgaria? We've got some of the best deals going on a taxi service in Kiten, and we'll be able to make sure your holiday comes off without a hitch.
Why Choose our Kiten Taxi Service?
We pride ourselves on the professionalism and efficiency of our taxi service in Kiten, not to mention the affordable rates that we charge for transport. There are plenty more benefits to be enjoyed though, when you book with us – here are just a few:
Just tell us where you need to get to in Bulgaria, and we'll be happy to offer you a quote. Our taxi service covers the entire country.
We'll always be able to offer a service that fits – no matter whether you're in Bulgaria for a business trip, or for the sun, sea and sand!
Book a taxi whenever you need it. We can accept your taxi bookings at any time of night or day.
Want a fast car to get you straight to the shops? Or perhaps your group would benefit from a larger minibus service. Whatever you need we've got you covered, with an extensive fleet of vehicles on hand.
You can relax in the knowledge that all of our taxi services are covered by our extensive vehicle insurance policies.
Need any extra space? Just let us know. We've got roof racks on standby for your skis or surfboards, while we can also provide children's car seats at your request.
To help the journey pass by a little quicker, we've equipped all of our cars with Internet access!
You can make yourself comfortable in our taxis, taking control over the air-conditioning, the interior temperature and even the music player.
You'll be able to enjoy your ride in a clean, smoke-free and beautifully maintained vehicle!
Book your Taxi in Kiten Now!
| | | | | | |
| --- | --- | --- | --- | --- | --- |
| From: | To: | Distance: | < 4 pers. | < 5 pers. | < 8 pers. |
| Kiten | Burgas | 55 km | 35 € | 40 € | 65 € |
| Kiten | Varna | 182 km | 100 € | 110 € | 140 € |
| Kiten | Istanbul | 319 km | 200 € | 220 € | 270 € |
Give us a ring today, and we'll help you to get set up with a quote on your Kiten taxi service. We can charge for vehicles by time, or by distance – whichever works best for you! Plus there's no need to worry about hidden charges, or extra fees later on… once you've agreed on a quote from AroundBulgaria, that price will become fixed.
Payments are always made on completion of the service – so simply have the money ready to give to your driver once you've arrived at your destination. And don't worry if you've not had time to get hold of any local money yet! We'll be happy to accept payments in either Euros, US Dollars or in Russian Rubles too.
Finally, if you're planning to book more than one service with us – for example, an airport transfer followed by a day excursion – then be sure to ask about our special savings! We have a range of exciting discounts on offer to regular and returning customers.
So call AroundBulgaria today – we're ready and waiting to offer you advice and guidance regarding travel around Bulgaria, while our taxi services in Kiten and elsewhere are on hand to help you get the very most from your trip.
How to Book a Transfer in Kiten
Quote
Send your requirements using the form below
Booking
We will send you an estimate and confirm details
Done!
Our driver will meet you at the airport or at your hotel
Book a Transfer in Kiten by filling the form below
About Kiten
Kiten is a pearl among the seaside towns along the Bulgarian Black Sea coast.
Thanks to its geographic position, Bulgaria is one of the few East European countries which offers conditions for thriving tourism. The coast of the Black Sea attracts a multitude of tourists each year.
The town of Kiten, located on the sea coast, is one of the main tourist centers of Bulgaria. Thetown itself is situated close to another significant European tourist center, the city of Burgas. The main factors which charm and attract a host of tourists, are the amicable atmosphere, the very low rates, and also the hospitality extended by local citizens.
In comparison to Burgas, Kiten offers lower rates on tourist services, and it is the ideal spot for the so called budget tourism. That is why the resort is vastly popular with Bulgarians as well.
Review
Valentina, 63 years, London, UKto Bulgaria with my granddaughter to have a vacation. My daughter recommended AroundBulgaria.com, and now I myself recommend it to all my friends. I arrived with the kid at Bourgas Airport (and of course, we didn't know how to reach Kiten). It was fortunate that we booked a transfer in advance.
We got out of the airport, it was an unfamiliar place, we were at a loss, but the driver was there, he took our baggage, took us to the car, and then drove us smoothly to the necessary spot. The man was a very amicable person, telling us what local sights are highlights, and offered us excursions; we readily said we were keen on excursions. I would like to express the company employees my deep gratitude for the memorable, interesting vacation. My granddaughter was fascinated after she toured so many places. I recommend AroundBuglaria.com to everybody.