Belogradchik Rocks and Magura Cave Tour
ANCIENT MYSTERIES TOUR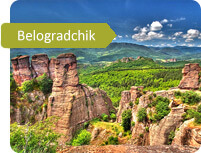 Get ready to experience a different Bulgaria. Explore some of the country's most ancient mysteries on a day tour to Belogradchik and the Magura Caves.
Wander across the breathtaking beauty of Bulgaria's sweeping hills and you'll find yourself amongst the truly bizarre Belogradchik Rocks – hundreds of stone figures ranging from man-size to several hundred meters tall!
Then venture beneath the Earth into the Magura Caves. These are the site of ten thousand year-old cave paintings from the Stone Age as well as being incredibly deep and exciting to explore themselves.
On the tour you will visit:
Belogradchik fortress and rocks
Magura cave
Have lunch in a local traditional restaurant (optional)
Your Belogradchik tour
Pick up: Your tour can start from any address in Sofia. If you'd like to be picked up from elsewhere, please let us know.
Tour Duration: 10 to 12 hours. However, this may vary depending on the itinerary, pick up and drop off locations you choose.
Included: the driver or guide you choose, fuel, parking fees and all taxes.
Excluded: entrance fees, food, drinks and personal expenses.
Price: from €190 for a group for up to 4 people. Will vary depending on your chosen vehicle type, number of passengers, tour guide and itinerary.
Accepted payment methods: cash, VISA / Master Card, and bank transfer.
How to book?
Inquire now and let our local concierge personally arrange your transportation

Quote
Send your requirements using the form
Book
We will send you an estimate and details
Hop in!
We will pick you up at your accommodation
What you'll see on your Belogradchik and Magura tour
Belogradchik
The small Bulgarian town of Belogradchik is surrounded by unusual rock formations of all shapes and sizes. Some are 200 meters high. Others are human-sized, red, grey, yellow or brown in color.
Some of these bizarre formations have gained their own names over time, along with legends describing love, lost time, suffering and many more stories.
Among the most famous Belogradchik Rocks are the Adam and Eve, the rider, the nun, the student, the lion and the bear.
This is a place where you can let your imagination run wild.
Magura Cave
25 km from Belogradchik is Magura Cave, the site of prehistoric wall paintings.
Closely resembling those of Grotta dei Cervi in Italy, the artwork is part of a series of underground galleries, halls and chambers. The largest of these – the Arc Hall – is 128 meters long and 21 meters high.
The paintings date from the early Bronze Age right back to the Epipaleolithic in the Stone Age some 10 000 years ago.
Why use Around Bulgaria?
Travel in comfort in the back of spacious minivans with air conditioning
Licensed English-speaking drivers or tour guides
Get a finalized cost first
We will collect you and drop you off at any destination you prefer
Include rest breaks, photo sessions and more
We can also provide only a guide, only a driver or a multi-day tour if that's what you prefer. All you need to do is let us know.