Plovdiv Airport Transfers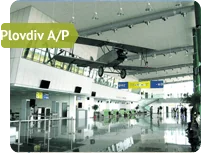 Plovdiv is known as the cultural capital of Bulgaria… and if you're planning a holiday to this beautiful, ancient city in the southern part of the country, then be sure to talk to AroundBulgaria first! We offer a full transfer service from Plovdiv Airport – getting you swiftly and smoothly to your hotel in the city, or in fact, to any other destination in the country.
Why Choose our Plovdiv Airport Transfers?
Our services for a Plovdiv Airport Transfer are some of the most efficient and professional – not to mention affordable! – that you're likely to come across. On top of that though, there are plenty of further reasons why you ought to be thinking about booking your Bulgarian airport transfer with AroundBulgaria.
Transfers Plovdiv Airport Transfer Prices
Prices are final, include VAT and all other expenses.
| | | | | | |
| --- | --- | --- | --- | --- | --- |
| From: | To: | Distance: | < 4 pers. | < 5 pers. | < 8 pers.. |
| Plovdiv | Pamporovo | 80 km | 65 € | 80 € | 105 € |
| Plovdiv | Varna | 376 km. | 175 € | 190 € | 220 € |
| Plovdiv | Sofia | 144 km. | 65 € | 85 € | 100 € |
| Plovdiv | Bansko | 155 km. | 80 € | 95 € | 115 € |
| Plovdiv | Borovets | 125 km. | 70 € | 85 € | 100 € |
| Plovdiv | Burgas |  253 km |  115 € |  135 € |  160 € |
| Plovdiv a/p | Plovdiv center |  15 km |  25 € |  30 € |  40 € |
| | | | | | |
Here are just a few further benefits to look out for:
We have a full fleet of vehicles on hand, including a range of modern cars and minibuses.
Our drivers all speak good English, and know the local area inside out! They'll be able to help you with all sorts of tips and insider info as you travel to your destination.
Even if your flight is delayed, our drivers will be perfectly happy to wait for you… it's all part of our complimentary service!
You'll even be able to surf the web, or check emails during transit – as most of our cars come with wireless Internet provided in them.
Need some extra space? Our cars feature roof racks for your sporting equipment, while those traveling with young children will be able to take advantage of complimentary children's car seats.
You can always be assured of a comfortable transfer, in our meticulously clean and smoke-free vehicles.
Added to the benefits listed above, we also offer a range of special offers and discounts, for our corporate or returning customers. If you're planning to book a return trip, or if you're booking for a larger group, be sure to ask about our discounts when you speak with our advisor!
Looking for a regular taxi servicein Plovdiv airport?
Plovdiv Airport is served by the following recognized taxi companies:
Paying for your Taxi from Plovdiv Airport
Here at AroundBulgaria, we make a strict rule of never asking for a payment in advance – instead, you'll be able to pay your driver in person, only after you've arrived at your destination. Prices are set at the rate you were quoted when you booked, so you'll never have to worry about extra fees or hidden charges… even if we end up waiting for your delayed flight!
To make things even easier for you, we can accept payments in a wide range of different currencies. Not had a chance to get your hands on any Bulgaria Levs yet? No problem! Feel free to pay for your transfer in US Dollars, in Euros or even in Russian Rubles.
Talk to AroundBulgaria today, and get a fantastic deal on your transfer Service from Plovdiv Airport! We look forward to helping you get your holiday off to a winning start.
How to Book a Transfer from Plovdiv Airport
Quote
Send your requirements using the form below
Booking
We will send you an estimate and confirm details
Done!
Our driver will meet you at the airport or at your hotel
Plovdiv Airport
Plovdiv Airport is located twelve kilometers away from the city of Plovdiv, southeast of it. Quite in the vicinity of the airport is the Plovdiv – Asenovgrad highway. From Plovdiv it is very easy to reach the mountain resorts of Borovets and Pamporovo. The predominant amount of flights are serviced during the fall and the winter.
Bulgaria is mostly visited by tourists from Ireland, Great Britain, and Russia. This Airport is also used as a spare airport in addition to Sofia Airport
Plovdiv Airport is just 150 kilometers away from the pearl of Bulgaria, the capital city of Sofia. That is why it is convenient as a spare option, in the event of unforeseen circumstances.
Other Routes
Review
Jakob K. Koch, 35 years, Hirtshals, Denmark
I booked a transfer from Plovdiv Airport to my hotel in the surroundings of the Borovets resort and a return transfer too, on the site of Around Bulgaria.com. I specially arrived in Bulgaria on a skiing vacation. I have no objections to the service, they met me in the area of the airport, they were right on time, the taxi driver quickly loaded the baggage and took me to the hotel.

I had been warned about local illegal taxi drivers, and I was on the lookout for being overcharged, but finally the price shown on the meter was well below my apprehensions. I had a wonderful skiing vacation on the Borovets slopes, I unwound excellently, and packed my baggage, it was great I had booked a return transfer. Another obliging and polite driver took me to the airport, rivaling the one that drove me the first time. The company offered me such a pleasant surprise to give me the nice discount on my return transfer.

I am planning another vacation in Bulgaria, and I will certainly rely on the services which the company offers via the site of Around Bulgaria.com