Transfer/Taxi Burgas to Obzor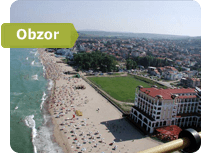 Book a taxi from Burgas Airport to Obzor and your vacation will start when you arrive in Bulgaria! English-speaking driver will wait for you in the waiting room at the Burgas Airport with sign.
He will help you with the luggage and drive you right up to the hotel door!
Great prices, a lot of discounts
Accept payment in local and foreign currency
Air conditioning in the cabin control by you
Modern fleet of vehicles – cars, vans. minibuses
Group and individual transfers
Flexible payment methods, fixed prices
Transfer Rates Burgas – Obzor
| | | | | | |
| --- | --- | --- | --- | --- | --- |
| From: | To: | Distance: | > 4 pers. | > 5 pers. | > 8 pers. |
| Burgas Airport | Obzor | 38 km | 40 € | 50 € | 65€ |
| Burgas | Obzor | 69 km | 40 € | 50 € | 65 € |
Distance: 69 km | Driving time: 1 h | Cities passing: Nikolaevo, Pomorie
How to Book a Transfer Burgas to Obzor
Quote
Send your requirements using the form below
Booking
We will send you an estimate and confirm details
Done!
Our driver will meet you at the airport or at your hotel
Book a Transfer from Burgas by filling the form below
Other routes
Details About Obzor
The small town and resort of Obzor does not offer a boring pace of life: luxury hotels, eateries, sumptuous restaurants, the cleanest beaches and secluded nooks for relaxation form the ambience. All the conditions for memorable and comfort soaked recreation are bundled in Obzor.
If you choose to stay in the center, you will certainly soak in tremendous views from your hotel window: the well manicured coastline, the entertainment zones, and the local sights. For family vacationing, B&Bs are the most convenient: there each apartment exudes homelike coziness: the staff will fill your stay with first class servicing.
Around are numerous complexes with shopping centers, and in the very heart of the town are located historical places and lovely buildings showing off the style of the ancient town of the sun.