Day Tour to Melnik
Private Day Tour to Melnik and Rila Monastery from Sofia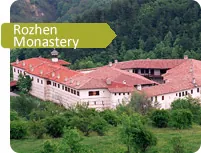 Melnik is small but perfectly formed. On your day tour of Melnik and the surrounding regions you'll soon see why this tiny, picturesque village is worth the visit.
You'll also explore two of the most important Orthodox shrines which are situated amidst a stunningly beautiful landscape of mountains and rivers.
These sites are of special historical, cultural and religious importance. But don't worry! We'll also be visiting one of the best local wineries so you can experience some unique Bulgarian wine.
On the tour you will visit:
Rila Monastery (UNESCO)
Rozhen Monastery
Melnik old city
Kordopulovata Kashta
Wine tasting (optional)
Have lunch in a local traditional restaurant (optional)
Why book with Around Bulgaria?
Go on your journey in comfort – air conditioned and spacious minivans
Get insights from an English-speaking driver / guide
Customize your tour and get a fixed price first
Pick up and drop-off locations set by you
Want to take a break or stop along the way for refreshments? No problem
Your Melnik Tour
Pick up: Your tour can start from any location in Sofia, Bansko or Borovets.
Tour Duration: 8 to 10 hours. This may vary depending on the itinerary, pick up and drop off locations.
Included: the driver or guide, fuel, parking fees and all taxes.
Excluded: entrance fees, food, drinks and personal expenses.
Price: from €190 for a group for up to 4 people.
Will vary depending on your chosen vehicle type, number of passengers, tour guides availability and itinerary.
Accepted payment methods: cash, VISA / Master Card, and bank transfer.
How to book?
Inquire now and let our local concierge personally arrange your transportation

Quote
Send your requirements using the form
Book
We will send you an estimate and details
Hop in!
We will pick you up at your accommodation
What you'll see on your private day tour of Melnik
Melnik
Melnik is perhaps the smallest town in Bulgaria – but it's also one of the most distinctive.
Located in the south-western part of the picturesque Pirin Mountains, Melnik is an architectural reserve with over 96 cultural monuments listed among its buildings. Not bad for a town of only 500 people!
Rozhen Monastery
The Rozhen Monastery, located a short distance from Melnik, is the largest cloister in the Pirin region and one of several medieval Bulgarian monasteries.
First built in the 13th century, it was seriously renovated in the 16th. The additional, beautiful church which was added at this time can still be seen today.
Rila Monastery
Rila Monastery is the largest Orthodox monastery in Bulgaria. An UNESCO world heritage site, it is a truly stunning structure which sits in a deep valley alongside the Rila River and surrounded by the Rila Mountains.
It is one of the country's most important historical and cultural monuments – as well as being an architectural treasure. Not to be missed.
Wine tasting
After a day spent exploring the cultural wonders of Bulgaria, it's time to try some of the country's gastronomic delights.
You'll sample the unique local wines in cozy cellars or outside at a local winery. Whether you're a sommelier or sometime-tippler, you won't be disappointed.