Sofia Airport Transfer  – 24/7 TAXI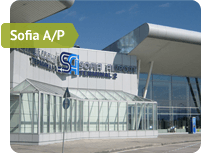 Book your transfer TAXI from Sofia Airport with AroundBulgaria – make sure your holiday starts from the moment you land.
Arriving late?
Travel in a big group?
Travel with children?
Arriving at Sofia Airport, you won't need to look for your transfer car around the airport – our drivers will be there ready to meet you from your flight, holding a card with your name on it. They'll also help with the luggage.
The TAXI will be there even if your flight is delayed
Free child safety seats provided on request
Our drivers speak English, are friendly and don't smoke
Cars, minibuses and full-size buses available – 4 – 6 – 8 and up to 50 passengers capacity.
We offer only private taxi / transfers from Sofia Airport, it means you won't wait for other passengers to arrive and wont drop off other passengers.
You'll always have the comfort and convenience of a private vehicle, with an itinerary planned around you alone.
Sofia Airport Transfer Prices
Sofia Airport taxi to Sofia city center – 10 km. 20€ for up to 4 people, 25€ for up to 5 people,  40€ for up to 8.
All prices include all expenses and VAT. No hidden payments.
CASH, VISA and BANK transfer payment options available.
| | | | | | |
| --- | --- | --- | --- | --- | --- |
| From | To | Distance: | < 4 pers. | < 5 pers. | < 8 pers. |
| Sofia Airport | Pamporovo | 229 km. | 120 € | 135 € | 160 € |
| Sofia Airport | Velingrad | 140 km. | 70 € | 85 € | 100 € |
| Sofia Airport | Borovets | 71 km. | 45 € | 55 € | 65 € |
| Sofia Airport | Bansko | 130 km. | 70 € | 85 € | 105 € |
| Sofia Airport | Bucharest | 400 km. | 230 € | 250 € | 300 € |
| Sofia Airport | Sunny Beach | 413 km. | 175 € | 195 € | 220 € |
| Sofia Airport | Plovdiv | 144 km. | 65 € | 85 € | 100 € |
| Sofia Airport | Burgas | 400 km. | 160 € | 180 € | 200 € |
| Sofia Airport | Varna | 450 km. | 190 € | 210 € | 235 € |
| Sofia Airport | Veliko Tarnovo | 222 km. | 120 € | 150 € | 200 € |
| Sofia Airport | Istanbul | 600 km. | 295 € | 320 € | 350 € |
| Sofia Airport | Golden Sands | 522 km. | 200 € | 220 € | 245 € |
| Sofia Airport | Nessebar | 412 km. | 175 € | 190 € | 220 € |
| Sofia Airport | Thessaloniki | 315 km. | 160 € | 180 € | 200 € |
How to Book a Taxi from/to Sofia Airport?
Quote
Send your requirements using the form below
Booking
We will send you an estimate and confirm details
Done!
Our driver will meet you at the airport or at your hotel
Book a transfer from Sofia airport right now and travel with pleasure.
We'll take care of the comfort of your trip!
Around Bulgaria
Average rating:
3 reviews
Oct 2, 2018
Excellent Service
I needed multiple transfers from Sofia airport to Belchin for my family - 5 adults with 2 children under 2 years old and arriving at different times and terminals. The booking process was easy and straight forward, always prompt and clear reply by Yuri and there was an emergency number to speak to him. There was change of plan and Yuri was flexible to organise transfer from Belchin to Sofia airport/centre for the whole family in a very short notice. Very professional and careful drivers, car seats were provided for the both kids, great service. Thank you Yuri, Vlado, Kostadin!!!!
Oct 2, 2018
Perfect experience
Booking process is clear and quick.On arrival to Sofia airport I was met by the driver as expected. The drive to Plovdiv was perfect, with stops for coffee and acquiring local cash. On the road we discussed a few topics of mutual interest, which is a pleasant bonus as compared to other transfer services. Thanks to Yuri and Vadim for the amazing service, I definitely recommend this company to everyone travelling across Bulgaria, and will use it again as needed.
Oct 2, 2018
Transport to and from Sofia airport
everything worked perfectly. Driver was on time waiting for us at airport as we exited customs and picked us up at the agreed upon time at our hotel to take us back to airport. 2 people with 2 packs cost 15 euros each direction. Pay cash.

We would use them again because of their reliability. With that said. Taxis are very cheap in Sofia but you have to negotiate a rate before you get in. we could have saved some money with a taxi but we liked the reliability of having the car service.
Looking for Other Options?
Regular taxi service
Sofia Airport Official Taxi Partner – OK Taxi.
The difference with our service is – the driver will not speak English, will not meet you in the arrivals, will accept only cash.
Do not use taxi services offered by random people at the airport – it is a SCAM.
Looking for public transport from Sofia Airport?
By Metro
Metro station at Sofia Airport is located in the eastern part of Terminal 2. (Free shuttle service is available)
Sofia Metro Line 1 (BLUE) connects Sofia Airport to the city center and provides direct connection to Sofia Bus Station and Sofia Train Station within less than half an hour.
Central Metro stations are: Serdika, NDK, Sofia Univgersity, Vasil Levski Stadium.
Journey time from Sofia Airport to the city center is 20min.
Metro trains on the route to the airport operate from 5:30am to 12:00pm
By Bus
84 bus line 05:00am to 12:20pm
384 bus line 05:52am to 10:58pm (Terminal 2 only)
Single ticket is 1.6 levs. You can buy from the driver with cash. No credit card payments available.
More info can be found in Sofia Mobility Centre website.
Between the terminals:
Sofia Airport provides free-of-charge transportation between Terminal 1 and Terminal 2 at every 30 minutes between 07:00 and 19:00 local time.
The shuttle bus stops located in front of the terminal buildings are designated by signage and pavement markings.
Some Advantages of our Airport Sofia Transfer Service
Here are some of the benefits you'll be able to enjoy when you take book our professional taxi service:
We offer both cars and minibuses, depending on your requirements
We carry a lot of luggage
Our services are fully covered by insurance
Our Sofia Airport transfers are served by professional English speaking drivers
You choose the music and the air-condition settings in the vehicles
Clean, smoke free vehicles
Paying for your Sofia Taxi Service
No advance payment needed, you can pay your driver in cash in euro, dollars or Bulgarian Lev. You can also pay in advance by credit card of bank transfer.
We'll charge you a fixed rate for your transfer. The price you in the quote is the final price.
The whole purpose of our service is to cater to all of your needs, allowing you to relax and enjoy your transfer in peace. Our drivers all speak English, and have excellent knowledge of the local area – which means that on top of finding the best route to your hotel, they'll usually be able to help you with any other questions you might have about your destination too.
Book your Sofia Airport transfer with AroundBulgaria today, and allow us to treat you to the VIP service!
About Sofia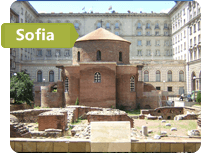 Sofia, the big, busy capital of Bulgaria, is a city filled to the brim with culture and history. Some people come for the architecture – others for the nightlife – but whatever it is that attracts you, we're confident that you'll soon want to stay!
Popular hotels in Sofia: Hilton Hotel, Sense Hotel, BON BON Hotel, Hotel Lion, Favorit Hotel, Casa Mia hotel, Best Westerm Sofia Hotel Balkan, Central Hotel Sofia
So if you're planning a trip to the Bulgarian capital, then why not talk to AroundBulgaria for help getting around? We're proud to be able to offer one of the leading taxi services in Sofia… with a range of smart, professional vehicles offering you a reliable service at affordable rates.
Sofia, the country's capital, is also its largest city. It is pleasantly surrounded by mountains rising in verdant splendor. The highest mountain invites with a huge natural park. It can be reached by chairlift. At the beginning of the mountain slope is the National Museum of History. It is a wealthy trove of artifacts, including unique Thracian treasures abounding in a host of gold and silver items.
By the museum is located the St Panteleimon Church with unique ancient murals. In the center of Sofia is the famous memorial church named after Alexander Nevsky. The monument of the Russian tsar and liberator Alexander the Second in the central square is a worthy landmark. The St Nicholas Church was built as homage to Russian soldiers from the liberation army who brought Bulgaria liberty from Ottoman domination.
Sofia Airport
Sofia, in whose vicinity Sofia Airport is located, is the capital of Bulgaria. According to 2011 data, its citizens number more than one million two hundred. Quite near the city rises the Vitosha mountain. Sofia has its own subway system, trams, trolleys and buses networks, and also a railway transport system.
Sofia's share in the total production of the country is one-sixth. Education and culture are highly developed in this remarkable city. For tourists it will be interesting to visit Bulgarian churches, galleries, theatres and other cultural sites which are numerous in the Bulgarian capital. In addition, Sofia is a very beautiful city and a pleasant place for memorable walks.
Patrick, 37 years, Stavanger, Norway
My business is closely linked to Bulgaria, and that is why I am a frequent visitor here. I have never experienced problems with the choice of taxi, because in the past year I have been using only the taxi services offered by Around Bulgaria. They always wait for me at Sofia Airport and take me to my office.
The services the company offers completely conform to my needs. They always have unoccupied cars available, the drivers are friendly and courteous, they do not pester me with their own problems and experiences, and they never drive on, striving to add more kilometers, in order to rip us, their Slavic brothers, off. For my business purposes, an important advantage is the availability of Internet connection in the car (when I was first told about that convenience, I was even a little surprised). I am content indeed!
Sonya and Peter, 27 years, Valencia
My brother and I had to travel, and it was an urgent trip. We had to reach from Sofia to Romania, on a trip for business. I was recommended the AroundBulgaria.com site by friends, so I used their services for a trip to Constanta. A driver of the company staff met us at the Sofia Airport, right at the agreed time. He offered us to help us load our cases into the car (we politely said no, it was OK to carry them on our own), and drove us to the hotel in Constanta.

I liked greatly how the driver was all the time caring, taking heed of our comfort; he asked what kind of music we preferred to have playing, whether he should adjust the air-conditioning, and about other wishes we might have. We heard him talk fluent English, and we asked him if all the company drivers can speak and explain well in English, and he said yes. Soon the taxi approached the hotel, we paid and said goodbye, pleased with our driver. The taxi service for our transfer still makes us feel very satisfied with it!