Private day tours from Albena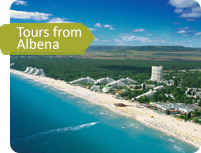 Albena is one of Bulgaria's most popular resorts. While it is a nice resort, planning an entire vacation around only one location maybe too monotonous and ruin your experience of Bulgaria. Diversify your holiday and take a one day trip to somewhere else. Private day trips from Albena to other locations will help you get a better idea of the beauty that surrounds our resort as well as that of the whole of Bulgaria.
Our tours are designed to visit the most unusual and mysterious places.
There is no need to wait around for anyone – with our individual tours you are the only participant, choose to travel with your loved ones and get a great experience out of it.
We pick you up in the morning for your hotel or hostel. Transportation is provided by our service, you will be riding in a comfortable minibus.
While on the road you can request a stop at any point of the trip either to take photos, to stretch from the travel or to enjoy some local cuisine in a café or a restaurant.
You will know the cost of the trip beforehand, we will announced it before you've booked the tour. Payments can be made out to the driver, cash is the preferred method, use whatever currency suits you.
Why stay inside your hotel room when you can out enjoying the nature of the land, learning more about Bulgaria and its people? Leave your requests on our website by filling out the application form, submit it and we'll call you within 30 minutes to confirm the order.
Excursion from Albena
The trip you were looking for not in the list of the tours provided? Around Bulgaria is a company that looks after its clients, let us know and we'll be sure to create a tour that meets your requirements and fulfills your wishes.
Follow us on our social medial Facebook – that's the way to know when a festival is about to start or has finished. Learn more about the events you want to visit in Bulgaria.