Rila Monastery Tour
MOUNTAINS AND MONASTERIES TOUR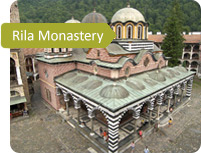 Your day tour of the Rila Monastery will take you to one of the most wondrous parts of Bulgaria and introduce you to one of its cultural icons.
Rila is just one of the incredible places which the Bulgarian people have built in which to worship. This particular example dates back as far as the 10th century.
But you can also add other Orthodox shrines to your experience – such as the amazing Boyana church – take lunch in a traditional local restaurant or go hiking through the natural beauty of the Seven Lakes of Rila…
On the tour you will visit:
Rila Monastery (Unesco) church, main museum of the monastery, 14th century medieval defense tower, authentic monk room – guided or self-guided tour.
Boyana Church (Unesco)  1:30hrs
Optional attractions to include in your tour:
Stob Pyramids – +1:30 and some hiking
National Museum of History +2hrs
Have lunch in a local traditional restaurant – optional
*The final price and itinerary will be formed around your preferences, pick up and drop off times.
Autumn – Winter – Spring it could me muddy and snowy – make sure you have suitable shoes.
Why use Around Bulgaria?
Air-conditioned minivans with plenty of legroom
Your English-speaking driver is friendly and knowledgeable
We can collect you and drop you off at your hotel
It's your tour! So we stop, have a break and take photos on your say-so
If you want a longer or multi-day tour, simply let us know. We're always happy to accommodate your needs.
Rila Monastery tour details
Pick up: Your tour can start from any location in Sofia. The tour can also be booked from Borovets, Plovdiv and other nearby cities.
Tour Duration: 6 to 8 hours. This may vary depending on the itinerary, pick up and drop off locations.
Included: the driver or guide you choose, fuel, parking fees and all taxes.
Excluded: entrance fees, food, drinks and personal expenses.
Price: from €140 for a half-day tour for a group and €170-190 for a fully day for up to 4 people. Will vary depending on your chosen vehicle type, number of passengers, tour guide and itinerary.
Accepted payment methods: cash, VISA / Master Card and bank transfer.
How to book?
Inquire now and let our local concierge personally arrange your transportation

Quote
Send your requirements using the form
Book
We will send you an estimate and details
Hop in!
We will pick you up at your accommodation
What you'll see
Rila Monastery
The incredible Rila Monastery was founded by St. John of Rila in the 10th century.
Once, it was an important religious and educational center for the country. Today, it is under UNESCO protection and one of the most well-known cultural symbols of Bulgaria.
On your tour of the monastery, you'll see the main museum, the monks' quarters and the 14th century medieval defensive fortification as well as the stunning monastery itself.
Boyana Church
An optional extra part of the tour, the Boyana Church is one of the most perfectly preserved monuments of Eastern European medieval art.
The church stands at the foot of Vitosha Mountain in the suburbs of Sofia.
Stob piramids (optional)
Another optional stop you might want to make on your tour, the intriguing rock formations known as the Stob Pyramids have been a site of protected natural beauty since 1964.
They are located above the village of Stob in the Kyustendil region in the western part of Rila.