Taxi – transfer Varna – Burgas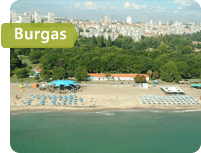 The best way to get to Burgas from Varna is if you book an intercity taxi with AdroundBulgaria.com. The individual transfer for the Varna-Burgas route will let you avoid need to rent a car, to have to know the local laws, where to park, etc.
We offer a convenient transfer to airports, to hotels, and also a taxi from Burgas to Varna. Why should you stop your choice at AdroundBulgaria.com?
Free of charge waiting by the driver, even if your flight is delayed
Free wi-fi in the transfer car
Most wallet-friendly costs and flexible system of discounts
Payment in cash as the transfer has finished
Air-conditioner and music set as you choose
Comfortable cars and minibuses
Varna – Burgas taxi rates
| | | | | | |
| --- | --- | --- | --- | --- | --- |
| From: | To: | Distance: | < 4 pers. | < 5 pers. | < 8 pers. |
| Varna Airport | Burgas | 134 km | 65 € | 70 € | 85 € |
| Varna | Burgas | 129 km | 65 € | 70 € | 85 € |
Distance: 129 | Driving time: 1 h 50 min | Cities passing through: Priseltsi, Bliznatsi, Byala, Obzor, Aheloy
How to Book a Transfer from Varna to Burgas
Quote
Send your requirements using the form below
Booking
We will send you an estimate and confirm details
Done!
Our driver will meet you at the airport or at your hotel
Book a Transfer in Varna by filling the form below
Other routes
Telling you more about Burgas
The history of Burgas. Like many Southeast Europe cities, Burgas was founded by Greek colonists. The archeological finds in the area of the city give reasons to state that the first settlement on the city's present territory was founded approximately in the year 1,500 BC. But the finds also inform about something else of importance: the intensive development of metallurgy and different industries.
What is known about the city's history about the Ottoman domination is scant. However, there is a legend that at this very place lived one of the elite regiments which guarded the borders during the expansion of the empire.
During the Russo-Turkish war, Burgas had an important strategic importance. The Russian Major-General Andrey Nabel received the order of Saint George of the third degree, for the overcoming of Burgas in 1829.