Day Tour to Plovdiv
EUROPEAN CAPITAL OF CULTURE TOUR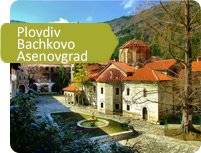 This private tour to Plovdiv can be arranged from Sofia, Bansko, Borovets, Pamporovo, Veliko Tarnovo and Burgas. Contact us for other pick up locations.
On your private day tour of Plovdiv you will witness everything this ancient city has to offer. As this is the oldest continually inhabited city in Europe, that's a lot.
The "City of the Seven Hills" was selected as the European Capital of Culture for 2019. It's easy to see why:
Plovdiv has been visited, owned, occupied and lived in by the Persians, Ancient Greeks, Celts, Romans, Goths, Slavs, Huns, Bulgars, Rus and the Turks at one time or another. Each has left their mark on this unique city.
On your tour, you will see not only the city's historic sites but also the beauty of the surrounding region.
Visit Koprivshtitsa mountain village, stop off at Bachkovo monastery and see Asenovgrad Fortress as well as some of the other less well-known sites which form the true Bulgaria.
On the tour you can visit:
Plovdiv guided or self guided city tour. Guided tour +60 euros.
Bachkovo Monastery self guided tour
Asens Fortress self guided tour
Koprivshtitsa Village Optional, adds 2hrs
Wonder Bridges Optional, adds +3hrs
Have lunch in a local traditional restaurant (optional)
*The list of attractions will be tailored around your pick up and drop off time and location.
Plovdiv Day Tour Details
Pick up: The tour can start from any location in Sofia, Plovdiv, Burgas, Borovets, Sunny Beach, Nessebar, Sozopol, St. Vlas as well as other cities.
Tour Duration: 8 to 10 hours. If you choose different start or drop-off points or request changes to the itinerary, this may change.
Included: the driver or guide you choose, fuel, parking fees and all taxes.
Excluded: entrance fees, food, drinks and personal expenses.
Price: from €180 for a group up to 4 people. This may also change depending on your vehicle type, number of passengers, tour guide availability and itinerary.
Accepted payment methods: cash, VISA / Master Card
Why use Around Bulgaria?
Travel in spacious air-conditioned vehicles
Book a private tour guide for your Plovdiv city tour or for the whole trip
Pay only after your tour is over and get a fixed price upfront
Departure and drop-off locations are flexible and set by you
Stay in control of your whole tour – take brakes, skip attractions.
You can also choose an English-speaking driver only or a licensed tour guide.
If you'd like a multi-day tour experience, just let us know and we'll offer some suggestions!
How to book?
Inquire now and let our local concierge personally arrange your transportation

Quote
Send your requirements using the form
Book
We will send you an estimate and details
Hop in!
We will pick you up at your accommodation
What you'll see on your private tour to Plovdiv
Koprivshtitsa
Koprivshtitsa is a historic museum town on the Topolnitsa River set amidst the splendor of the Sredna Gora mountains.
As well as its folk music festivals, the town is known for its traditional Bulgarian architecture and is sprinkled with drinking fountains, bridges, buildings and monuments.
Various important figures from Bulgarian history have their resting places marked and many of the town houses are now museums. You'll be able to visit as many of these as take your fancy.
Plovdiv
Plovdiv is the second-largest city in Bulgaria, coming in only behind the capital Sofia.
There are too many things to see in Plovdiv to list in such a short space. But, the ruins of the Roman aqueduct, the connected amphitheater, the remains of Philipopolis, the ancient stadium, the Church of the Blessed Virgin, the magnificently decorated Cathedral of St. Louis, the Church of Saints Constantine and Helen and the Juma Mosque are some of the must-visits.
You'll see them all.
Bachkovo monastery
Near to Plovdiv is the well-known Bachkovo Monastery, the second-largest monastery in Bulgaria.
The buildings inside the monastery's walls showcase a mixture of different times and types of architecture – and everything from Bulgaria to Byzantine to Georgian cultural traditions can be seen in their construction.
The Miraculous Icon of the Mother of God "Humility" attracts thousands of pilgrims each year, many of whom come from far outside of Bulgaria.
Asenovgrad Fortress
The famous Asenovgrad landmark sometimes called Asen's Fortress dates from the fifth century BC. It is believed that the Thracians built it as a kind of small fortification against their neighbors.
The fortress lies in the Rhodope mountains a little distance from the town of Asenovgrad and contains the wholly-preserved medieval Church of the Holy Mother of God on a stunning promontory overlooking the mountains.