Private day tours from Nessebar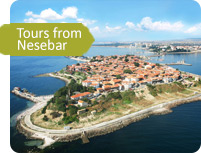 You want to diversify your vacation experience from lying on the beaches of Nessebar? Looking for a more thrilling and emotional experience instead? Aroundbulgaria is a company prepared to help you in that endeavor at a reasonable price and guaranteed comfort for you and your family.
Enjoy an exciting day trip away from Nessebar and its beaches. Enjoy your trip to new destinations in a comfortable fully air-conditioned vehicle with music you fully control and a group of friends you yourself chose.
A comfortable transport service is provided from your hotel to your destination and back.
You can choose who comes along the trip, pick family and friends.
The time of travel is clearly laid out, the trip will not be too stressful or tedious.
The company offers you a combination of comfort, quality and good value for your money.
You can stop to take a photo, grab a snack.
We will be glad to answer any of your questions. Submit your request and get a quote within an hour or two.
Sightseeing Tours from Nessebar
Enjoy the magnificent beauty of Bulgaria and its landscape, to experience its fullness will take a long time. To get an idea of the traditions, the people of the land and the landscape itself, all you have t do is book a trip with us. It's easily one online, no phone calls needed, it's free of charge and takes 1-2 minutes.
Our managers will contact you and help you with choosing the sights you want to see, and even give advice on different aspects of the trip. If you want something adjusted, a different location, to prolong the trip or to shorten it, we will oblige at one. We can even create a special excursion program just for you.