Burgas to Sozopol Taxi Transfer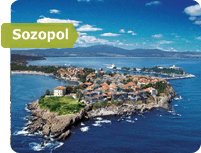 Enjoy a swift and hassle-free taxi transfer from Burgas to Sozopol. Safely in the back of one of our fleet of roomy sedan cars and mini vans, you'll have Wi-Fi internet access as well as control of the stereo system and air conditioning. All of our English-speaking drivers are fully insured and can collect and drop you off at any location you choose at either end.
Transfer Details
Route: Burgas to Sozopol or vice versa
Distance: 43 km
Trip duration: 45 minutes
Vehicle choice: Sedans, minivans and 7+1 vans.
Pick up/Drop off – Burgas airport or any location in Sozopol
Price: from €40
Booking: Use the form below or WhatsApp us directly.
Payment: cash – Euros, Dollars and Pounds, Credit / debit card online.
Transfer Price
| | | | | | |
| --- | --- | --- | --- | --- | --- |
| From: | To: | Distance: | > 4 pers. | > 5 pers. | > 8 pers. |
| Burgas Airport | Sozopol | 43 km | €40 | €60 | €75 |
| Burgas | Sozopol | 34 km | €40 | €60 | €75 |
How to Order?
Quote
Send your requirements using the form below
Book
Receive an estimate and confirm details
Hop in!
Our driver will pick you up at the right time
Why use us for your Burgas to Sozopol transfer?
Air conditioning in your vehicles
Fully insured service
Fleet of modern vehicles
Free loading and unloading of your baggage
24/7 service covering weekends and holidays
Free waiting at the airport in the event of plane delays!
Burgas to Sozopol Taxi / Transfer
Average rating:
2 reviews
Oct 2, 2018
Excellent Experience
I highly recommend Around Bulgaria for transport. Yuri and the team are ultra-professional while maintaining a very friendly and warm demeanor. Yuri went beyond the scope of the requested service to ensure a great trip. Yuri is very knowledgeable about Bulgaria and the region.
Oct 2, 2018
Burgas airport to Sozopol and return
Absolutely top class service!

I requested the tour online and after only 10 minutes I had their offer - which was only 40 € each way. (4 persons and 7 pieces of luggage)

I booked and looked forward to the journey.

When we arrived there was no driver at the airport, so I called Yuri to find out what was wrong. I turned out that I had booked the wrong dates - by a month! BUT Yuri told me not to worry - and about 10 minutes later he called me back, and told me a car was on its way, only 20 minutes later, our driver showed up!

Unfortunately this driver was a little to focused on his mobilephone as we were driving.

Our tour home was 15 minutes early, but he waited politely, till we were ready to leave. Perfect driving and arrived in good time in front of the airport.



Thank you Yuri for your professionalism!
Other routes
About Sozopol
The small but hugely charming town and resort of Sozopol is located a short distance from Sofia and Burgas (Bourgas). Its beauty draws in thousands of tourists each year as it's a simply superb resort surrounded by sandy beaches and beautiful natural landscapes.
The wonderful park in the town centre divides Sozopol into two parts:
One of them is a unique architectural reserve where ancient churches and other unique buildings abound.
Two churches are active in Sozopol nowadays: the Saint George and the Saint Zosima churches. The latter was built in the middle of the nineteenth century. You'll also find part of the fortress wall which once encircled the entire town.