Private day trips from Sunny Beach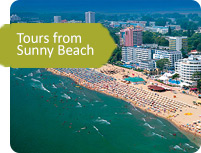 Sunny Beach is undoubtedly the liveliest part of Bulgaria during the summer and autumn holiday seasons. But the scorching sun and crowds force many people to spend their vacations at the pools of their hotels lying on a sun lounger for the entire duration off the trip…
Escape the press with one of our private day trips from Sunny Beach. We'll help you explore a bit of what Bulgaria really has to offer:
Try the local food and wine, see the local sights and learn more about the country, its traditions and its people.
Why go on one of our tours from Sunny Beach?
You'll be in control of the sound system and the air conditioning which each of our vehicles are fitted with. Plus:
Your personal, comfortable tour bus will be waiting for you at the entrance of your hotel
The price of the tour is announced in advance and will stay fixed throughout the entire trip – no hidden fees or surcharges
Use this time to spend valuable time with your friends and family – customise and enjoy your personalised tour
Payments can be made by cash in person in US dollars, euros and Leva or by bank transfer, PayPal or credit or debit card online
Create your own perfect Sunny Beach day tour
What if the kind of trip you really wanted isn't listed?
No problem! We'll be glad to create a personal tour for you so you can see the places you are most interested in.
We offer multi-day and single day trips from Sunny Beach. Give us the time, date and your main places of interest and we will make it happen.
Creating an individual program for you isn't a problem. We always want to make sure you get exactly what you want from your trip.
It's easy to book your tour
Sunny Beach is fun. But don't miss the chance to get acquainted with the real Bulgaria.
To book a specific tour, select it in the booking form and submit with one click. We will contact you within 30 minutes of submission and confirm the details on the form. If any adjustments to the information and routes of the tour will be needed to meet your needs, we'll let you know.