Private day tours from Golden Sands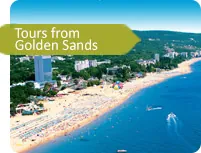 Golden Sands is a Black Sea coast resort most commonly known for its relaxing atmosphere. While it can be a great place for young people, it is always a good thing to get a bit of variety in your holiday.
A day tour from Golden Sands allows you to immerse yourself in the real Bulgaria. See some of the most-visited and mysterious places in the country, get involved in some of the traditions, try out some real local food and wine, learn about the age old legends – whatever takes your fancy.
Getting out of the resort for a day is the best way to add some really memorable experiences to your Bulgarian holiday.
Why go on one of our private day tours from Golden Sands?
Our private tours are far more comfortable than regular tours. For a start, you have full control of the climate and entertainment systems inside the roomy minivan you'll be travelling inside.
You also don't have to wait for strangers who are lingering behind – you'll have chosen the people you want around you!
A comfortable bus will pick you up from your hotel and bring you back once the tour is over
You can opt for a drop off at a different location later if you like
Your fully licensed English-speaking guide will know everything there is to know
Take as many break stops as you like – stretch your legs from travel, explore any sight you see, take pictures, buy souvenirs, eat in traditional restaurants!
Get the very best from your tour
You can choose where you'll go from a list of programs other visitors have enjoyed and submit the application online.
After our system has registered your request we will contact you with the details of the trip. This is also the time to specify anything you want added, the time of departure and details that will make this trip the best experience for you, your friends and family.
Create your own custom multi-day tour
Is a single-day experience not doing it for you?
Around Bulgaria develops and runs multi-day experiences and trips inside and outside of Bulgaria. We can create a separate experience for you, tailored to your personal interests and the things you've told us you really want to see.
Book your Golden Sands day tour quickly and easily
Fill in our online booking form now and let us know what you want from your Golden Sands private day tour.