Varna Airport Transfer TAXI Service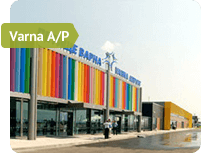 Bulgaria becomes a very popular destination during the summer months, with thousands of tourists flocking to the nation's busy beach resorts. If you leave your holiday planning to the last minute, you could find yourself competing for taxis against hundreds of other visitors!
So why not buy yourself a little security instead? Book your spacious car in advance through AroundBulgaria, and guarantee yourself comfortable and efficient transport to where you need to go – with an honest, courteous and friendly English-speaking driver.
Arranging your transfer or taxi from Varna Airport in advance will save you both money and stress – while you'll be able to travel from the airport to your hotel quickly and in comfort. When you book a transfer with us, you'll also be able to enjoy a healthy selection of bonus features, discounts and complimentary services!
Varna Airport Taxi Prices
| | | | | | |
| --- | --- | --- | --- | --- | --- |
| From Airport: | To: | Distance: | < 4 pers. | < 5 pers. | < 8 pers. |
| Varna | Albena | 28 km | 30 € | 35 € | 45 € |
| Varna | Byala | 54 km | 35 € | 40 € | 55 € |
| Varna | St. Konst. and Elena | 10 km | 15 € | 20 € | 30 € |
| Varna | Golden Sands | 17 km | 20 € | 25 € | 35 € |
| Varna | Burgas | 130 km | 65 € | 70 € | 85 € |
| Varna | Elenite | 98 km | 55 € | 60 € | 80 € |
| Varna | Nessebar | 100 km | 55 € | 60 € | 75 € |
| Varna | Obzor | 59 km | 40 € | 45 € | 60 € |
| Varna | Pomorie | 111 km | 60 € | 65 € | 80 € |
| Varna | Primorsko | 178 km | 90 € | 110 € | 140 € |
| Varna | Ravda | 100 km | 60 € | 65 € | 80 € |
| Varna | St. Vlas | 94 km | 55 € | 60 € | 75 € |
| Varna | Sozopol | 162 km | 85 € | 90 € | 105 € |
| Varna | Sunny Beach | 95 km | 55 € | 60 € | 75 € |
| Varna | Plovdiv | 376 km | 175 € | 185 € | 210 € |
| Varna | Sofia | 450 km | 190 € | 210 € | 235 € |
| Varna | Bucharest | 269 km | 140 € | 160 € | 190 € |
| Varna | Constanta | 152 km | 90 € | 100 € | 130 € |
| Varna | Istanbul (Sabiha Gokcen Airport) | 510 km | 280 € | 300 € | 420 € |
| Varna | Istanbul (Ataturk Airport) | 458 km | 260 € | 280 € | 400 € |
Book your airport transfer with AroundBulgaria… and get your holiday started from the very moment you set foot on Bulgarian soil.
Some of the additional features you'll be able to enjoy when you book with AroundBulgaria for your Varna Airport transfer, include:
We guarantee you comfort and security. Our vehicles come clean and beautifully maintained, our drivers courteous and welcoming, while our rates are some of the lowest you'll ever see.
You can book your transfer from Varna Airport with us as late as two hours before your flight… and if your flight is delayed for any reason, our drivers will stay waiting patiently for you at the airport.
All of our drivers speak fluent English, allowing you to communicate with ease as you go about your transfer.
Your chauffeur will meet you from the arrivals lounge with a name card – before helping you to the car with your luggage.
Varna Airport Transfer
Average rating:
1 reviews
Oct 2, 2018
Excellent service and vehicle
We spent 10 days across several Balkan countries (Bulgaria, Macedonia, Albania, Montenegro) and it was a lovely experience.

Yuri was very reliable and was early for every single pickup, besides being good company during long drives. Also, the vehicle provided was almost brand new as well, so very comfortable.

Overall, we had an excellent experience and would readily recommend to anyone considering Balkan tours/transfers.
Why Book our Varna Airport Transfers?
There are plenty of reasons to be talking to AroundBulgaria about your transfer from Varna Airport. Here are just a few of the top benefits that you'll be able to enjoy by booking your holiday transport with us:
Our fleet of vehicles includes state-of-the-art cars and minibuses, perfect for carrying anything from individual passengers through to larger tourism groups.
If you're travelling with young children, we can provide you with children's car seats – entirely free of charge.
All our of professional vehicles come secure and fully insured, for your comfort and peace of mind.
Our drivers are experienced professionals, with extensive knowledge when it comes to local road systems and transport routes.
Everything about your airport transfer will be left to your control – you can even pick the music playing in the car, or adjust the air conditioning to your liking.
Each one of our vehicles is kept to the highest standards of cleanliness, and completely smoke-free!
We even offer Internet access in our vehicles, allowing you to surf the web or check emails while in transit.
Book Your Transfer from Varna Airport
Payments
When you book with AroundBulgaria for your Varna Airport transfer, you'll never be asked to make a payment in advance. We only accept our fees after we've got you safely to where you need to go! For your convenience, we'll accept payment either in local money or in a range of foreign currencies. Transfer rates are always fixed to the price first quoted – which means you'll never have to worry about added fees or hidden costs with AroundBulgaria.
What's more, all of the benefits listed above come as complimentary bonuses to the service we offer. We believe that one fair price should buy you all the comfort you require, and we'll never ask you for extra payments – even if you need help with your luggage, or if your flight is delayed and our driver ends up waiting for you.
So buy yourself a little peace of mind on your upcoming trip – and book your transfer from Varna Airport now, with AroundBulgaria.
How to Book a Transfer
Quote
Send your requirements using the form below
Booking
We will send you an estimate and confirm details
Done!
Our driver will meet you at the airport or at your hotel
Varna Airport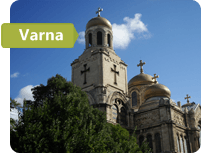 Varna Airport is a very modern, sparkling new terminal. It is located to the north of the sun soaked Black Sea coast, and very near the picturesque Varna, the seaside capital of Bulgaria. Just 18 km away invites the gem among resorts, one of the most sought resort complexes which is internationally famous: Golden Sands. It is hassle free to reach all the local sights, and it takes little time to get to the center of Varna, because the airport is not far from it, and has public transport and taxi services to it.
Varna Airport daily welcomes arriving passengers and sees departing passengers to all destinations in the world. Especially in welcoming Bulgarian summer, numerous charter flights arrive there, and, too, leave from the airport. Summertime is really balmy here and meet the different likings of a multitude of tourists. Varna and the resorts in the abutting area are very sought and liked spots, and many companies work with the airport seeing it as a reliable partner for the management of regular flights.
Regular taxi service
Sofia Airport Official Taxi Partner – OK Taxi.
Other Local Taxi services: Hippo taxi, Lasia taxi.
The difference with our service is – the driver will not speak English, will not meet you in the arrivals, will accept only cash.
About Varna
Varna – a city with a highly developed industry, technology and culture. The largest port city in Bulgaria. Situated in the north-east of the country, near the Romanian border. Varna – the famous golden sandy beaches Bulgarian resort.
Humid Mediterranean climate is favorable for all the travelers. The resorts near Varna are famous all around the world – Golden Sands, Sunny Day and Albena.
Review
Simon, 37 years, Bristol, Uk
Having got married, my wife and I had an idea of a great solution for spending our honeymoon: Bulgaria. I found out the site of Around Bulgaria on the web. I called them and booked a taxi in advance, from Varna Airport to Sveti Vlas. As we arrived, there was the taxi driver, already waiting. He took us to the taxi, and very soon delivered us to Sveti Vlas. I am not a fan of hoofing it, so I decided to ask the driver about places where I can rent a car. As the driver explained, the company also offers such services, and we decided to rent a car with them. On the next day, in the morning, a car with a chauffeur was ready to take us around the local sights, and I was wondering how really many they are. At the end of the day, it was time to pay, I had the next surprise – that was the payment for the service. I must mention another great thing, I paid for the wonderful ride much less than I reckoned they would charge me. Now, after my experience, the company I always recommend to everybody is Around Bulgaria !
Robert, 52, Varna
Actualy, I live in Varna for more than 5 years. From time to time I take a taxi from AroundBulgaria.com when I have to do some business around the city. Compared with the local taxi drivers The service is very punctual and compulsory. The taxies never late, and this is the most important thing for me. Last time the company even made me a discount as a regular customer. Just a small thing, but very nice.