Private Day trips from Burgas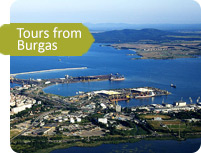 Burgas is a unique place to visit. It is one of the largest cities in Bulgaria, as well as being one of the greatest Black Sea resorts. This means there are many interesting places to visit and a variety of galleries and museums to investigate just in the city. But that's not all Bulgaria has to offer you…
Go on a private day tour from Burgas and see some of the other amazing sights which Bulgaria is known for.
Taste the local food and wine, see more of the ancient history and get involved with the local people as you learn more about their traditions and way of life from an expert guide.
Why go on one of our private day tours from Burgas?
Burgas is a resort loved by many. An ancient city and a cultural centre for the region, it is a place that can provide you with many things to see and do.
Make sure your enjoy the Black Sea beaches and resorts – but don't forget there's a lot to see outside of the city but still in the local area that's easily reachable.
Your friendly tour guide is licensed, fluent in English and very knowledgeable about the sights you'll visit
You can request a break or a stop at any point of the trip – go to the store to buy some souvenirs, get something to eat, take photos or simply stretch your legs
All services are fully insured
All tours are carried out in comfortable, air-conditioned minivans. We provide free child-safe car seats as well as giving you control of the temperature and stereo systems
Excursion from Burgas
Create your own perfect Burgas day tour
The duration of the trip, its destination and route are for you to decide.
You can choose the most popular destinations if you like. But if you prefer to visit quieter, more remote locations, we will be more than happy to recommend a few to you.
How to book
Make a request now and our team will contact you within 30 minutes to finalise all the details of your trip and talk about routes and departure and arrival times.