Varna City and Local Sightseeing Tour
THE VARNA CITY EXPERIENCE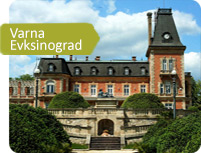 Come see the beauty of Varna, a city that sits along one of the world's prettiest coastlines. Join us on a private day tour of Varna, where we'll show you all the city's best bits:
First, we'll take a relaxed walk through the heart of this coastal city, filled with sights and history.
Next, we'll head out to see some amazing landmarks near Varna. We'll check out the impressive Shumen Monument, explore the mysterious Stone Forest, and visit the old Aladzha Monastery.
On the tour you will visit:
City tour of Varna – Architectural Museum, the Roman baths, the Historical Museum, walking city center, the Sea Garden,
Aladzha Rock Monastery
Stone Forest
More places that can be included: Devnya Museum of Mosaics, Glass Museum etc.
Have lunch in a local traditional restaurant (optional)
Your Varna tour Details
Pick up: Your tour can start from any location in Varna, Burgas, Sunny Beach, Sozopol, Nessebar, St. Vlas, Albena, from Golden Sands or any other resort.
Tour Duration: 6 to 10 hours. If you select different start or end-points ot additional places to visit, this may change.
Included: the driver or guide you choose, fuel, parking fees and all taxes.
Excluded: entrance fees, food, drinks and personal expenses.
Price: from €170 for a group for up to 4 people. Will vary depending on your chosen vehicle type, number of passengers, tour guide and itinerary.
Accepted payment methods: cash, VISA / Master Card, and bank transfer.

How to book?
Inquire now and let our local concierge personally arrange your transportation

Quote
Send your requirements using the form
Book
We will send you an estimate and details
Hop in!
We will pick you up at your accommodation
Why booking with us?
Ride in spacious, comfortable minivans with air conditioning
Learn from licensed, English-speaking tour guides (plus experts in other languages)
Get a price quote upfront – no hidden fees
You set the pick up and drop-off locations
You're in charge! Stop for refreshments and photo breaks along the way
If you'd actually like your tour to last more than just a single day, we also offer custom multi-day tours of Varna and the surrounding regions.
Private day tour of Varna
Varna city tour
Varna is the third largest city in Bulgaria, second to Plovdiv and dwarfed by Sofia. But, while it might be lagging behind in population, in terms of unmissable sights to see it is near the top of the pile.
You'll visit the Roman Baths, the unmistakable cathedral in the city center where the Episcopal Throne is located, the Archaeological Museum and many others.
Plus, you'll be traveling in comfort and style, at your own pace, aided by insights from your fluent, expert guide.
Visit the Shumen Monument
The Shumen Monument commemorates the creators of the Bulgarian State and over 1300 years of Bulgarian history.
Set over 450 meters above sea level, this cyclopean structure can be seen from 30 km away!
The Stone Forest
The Stone Forest – known in Bulgarian as "Pobiti kamani" – is a unique natural phenomenon. Situated around the Beloslav Lake, a huge arrangement of limestone pillars, cones and rocks dot the local landscape.
A protected area since 1938, it is one of the strangest and most impressive sights in the country, and thus one of the first to be given this official status.
The Stone Forest definitely isn't man-made. But its true origins remain a mystery.
Aladzha Monastery
This Orthodox monastery of the 12th century is built into caves in the cliffs and surrounded by a beautiful national park.
On the monastery's grounds in the evenings you'll often be able to witness a show. But this ancient site is worth the visit at any time of day.