Thessaloniki to Bansko – Transfer Taxi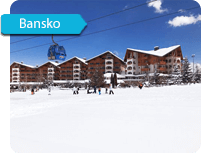 Taxi from Thessaloniki Airport to Bansko is the easiest and fastest way to get to the mountain resort of Bulgaria.
There is nothing easier: order a transfer online, the driver will meet you at the airport with a sign.
Transfer Duration: 3 hours;
Distance: 220 km;
Transfer Cost: €140 one way, €280 return;
Booking the taxi: online form below or by whatapp, no deposit required;
Payment: cash in EUR, USD, BGN, VISA/Mastercard, bank transfer.
NB: 24/7, free child seats, ski and snowboard equipment will fit, English speaking drivers, different vehicles available.
Rates of transfers from Thessaloniki
| | | | | | |
| --- | --- | --- | --- | --- | --- |
| From: | To: | Distance: | < 4 pers. | < 5 pers. | < 8 pers. |
| Thessaloniki | Varna | 760 km | 400 € | 450 € | 500 € |
| Thessaloniki | Burgas | 636 km | 300 € | 330 € | 350 € |
| Thessaloniki | Sofia | 315 km | 160 € | 180 € | 220 € |
| Thessaloniki | Bansko | 220 km | 140 € | 165 € | 190 € |
The driver will help carry the baggage and load it into the car, wait if your plane is delayed;
No advance payments – you can pay directly to your driver once you've arrived at your destination.
The transfer price does not change on the spot. You can pay in cash or with VISA/MASTERCARD
Free child seats available.
How to Book a Transfer Thessaloniki – Bansko
Quote
Send your requirements using the form below
Booking
We will send you an estimate and confirm details
Done!
Our driver will meet you at the airport or at your hotel
Book by filling the form below
We also have a range of special discounts when you book more than one service with us.
Thessaloniki
The second largest city of Greece and the capital of Central Macedonia, Thessaloniki today is the cultural capital of the country: the city is known for its festivals and events.
In addition, it is also a city with more than 3000 years of history, where imprints of the Roman, Byzantine, Ottoman empires, as well as the Jewish population that once dominated here, are preserved.
The old center of the city, located north of the modern center, was miraculously not damaged during the great fire of 1917. Now it is inscribed on the UNESCO World Heritage List.
About Bansko
Bansko is a world famous mountain resort that attracts many tourists from around the world at any time of the year. In Bansko and the outskirts there are 320 places to stay. These are guest houses, hotels for every taste and budget.
The stores offer a wide range of goods – sports, fashion, household items, art crafts. ATMs are located in key locations – public buildings, museums, hotels, nightclubs, and elevators.
In winter, a number of national and international competitions in alpine skiing are held, ideal conditions for both professionals and beginners.
The rest of the seasons offer a lot of entertainment in the city and in the mountains. There are opportunities for many sports, including extreme. The year-round cultural calendar includes international festivals, competitions, concerts.