Transfer from Thessaloniki Airport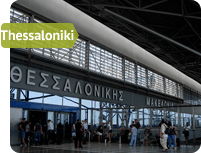 Bulgaria is one of Europe's prime destinations for a summer break – boasting beautiful beaches, a wealth of culture, dramatic mountain landscapes and all the potential you could hope for when it comes to sports and outdoor activities!
Here at AroundBulgaria, we're the local leaders when it comes to arranging airport transfers around the country – as well as catering to visitors flying in through airports in neighbouring lands!
So if you're planning to visit Bulgaria with a flight into Greece's Thessaloniki airport, talk to us now. We offer a fully prepared, swift, professional and affordable Thessaloniki Airport transfer service… getting you straight to where you need to be in Bulgaria.
The Benefits of our Thessaloniki Airport Transfers
Our Thessaloniki Airport transfer service is fast, it's comfortable, and it's one of the most affordable ways to travel between the airport at Thessaloniki and your hotel in Bulgaria. Aside from those factors though, there are plenty of other advantages you'll be able to enjoy when you book your trip through the experts at AroundBulgaria.
Rates of transfers from Thessaloniki to Bulgaria
| | | | | | |
| --- | --- | --- | --- | --- | --- |
| From: | To: | Distance: | < 4 pers. | < 5 pers. | < 8 pers. |
| Thessaloniki | Varna | 760 km | 400 € | 450 € | 500 € |
| Thessaloniki | Burgas | 636 km | 300 € | 330 € | 350 € |
| Thessaloniki | Sofia | 315 km | 165 € | 190 € | 220 € |
| Thessaloniki | Bansko | 220 km | 140 € | 165 € | 190 € |
Here are just a few of the other benefits you'll be able to look forward to:
Our fleet of beautifully maintained vehicles will be able to cater to your every need – from fast, modern cars through to larger minibuses ideal for group bookings.
All of our drivers speak English, and will be able to assist you with local information or answer any questions that you might have.
Delayed flight? However late you arrive, you'll never need to worry about your transfer once you've booked it with us. Our drivers will be there waiting for you, with no extra charges for the delay.
Most of our vehicles come equipped with wireless Internet – allowing you to catch up on emails after your flight!
Our cars are fitted with luggage racks, perfect for you skis, surfboards or other oversized packages. We also provide children's car seats for your little ones, free of charge.
Comfort is guaranteed when you book with AroundBulgaria. All of our vehicles are kept beautifully clean, and entirely smoke-free. During the transfer you'll have complete control over the temperature, the air-conditioning, and even the music player!
Don't forget to ask our advisor about special offers when you book – we have a range of money-saving discounts available to corporate and returning customers. Need a return transfer booked, for example? We'll gladly offer you a discount when you book both journeys at the same time!
How to Book your Thessaloniki Airport Transfer
Just call us now, and you'll be able to make a booking for your transfer service from Thessaloniki airport straight to your destination in Bulgaria. Don't worry about payments yet, though – we never ask for money in advance, instead allowing you to make your payment to the driver in person… and only after you've arrived safely where you need to be!
For your convenience, we can accept payments in a range of different currencies. As well as local money, our drivers will accept foreign currencies such as Russian Rubles, US Dollar and Euros.
Remember – you'll never need to worry about hidden charges or extra fees when you book with AroundBulgaria. Instead, the price we quote you over the phone will always be the price you pay.
If you're planning a trip to Bulgaria, talk to the experts at AroundBulgaria now! We'll make sure that your transfer from Thessaloniki Airport is as smooth as it is affordable
Book a Transfer from Thessaloniki Airport
Quote
Send your requirements using the form below
Booking
We will send you an estimate and confirm details
Done!
Our driver will meet you at the airport or at your hotel
Thessaloniki Airport
Thessaloniki Airport is the second most important airport in Greece regarding the quality of servicing of passengers. The first place is occupied by Athens Airport. Nowadays the Thessaloniki Airport in Macedonia is one of the most convenient airports. The airport services international flights transporting cargo and passengers. The capacity of the airport is one of the highest in Macedonia.
The city of Thessaloniki is a large one. According to 2011 data, it has over one million and one hundred thousand citizens.
Furthermore, the city of Thessaloniki has a large sea port, which is second only to the port of Piraeus in terms of economic indices. Every day planes fly on intercity and international flights from Thessaloniki Airport.
Other Routes
Review
Jan Kuchta, 63 years, Cerný Dul, Czech Republic
Ilove travelling, and when an ex colleague called to invite me to Sofia, to stay in his home there, I accepted the invitation right away.

There were several flight choices, and I chose the one via Thessaloniki – I wanted not only to reach Bulgaria, but make the most until we came to the country and get to know Greece as we were passing.
AroundBulgaria.com helped me to organize and do my trip from the Thessaloniki Airport to Sofia and the return trip. The transfer, the excursion around Thessaloniki, the short excursions we delighted in while we were driving towards Sofia – everything was neatly prepared.

I really felt pampered, cared for, their important customer, and they strived to offer the most wonderful servicing all the time. I still gave the most positive impressions when I remember my visit and the journey from Thessaloniki to Bulgaria.

I want to share express my gratitude to the company!