Taxi-transfer Istanbul – Sveti Vlas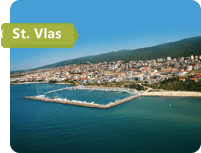 The simplest, hassle free way of reaching Sveti Vlas from Istanbul is to book an international taxi transfer with AroundBulgaria.com. The private transfer along the Istanbul – Sveti Vlas route will spare you boring arrangements, renting a car, finding your way, touring endlessly to find suitable parking space, etc.
We offer advantageous transfers to the airport or hotel of your destination, and we also offer taxi transfers from Istanbul to Sveti Vlas.
The question of why choose AroundBulgaria.com is simple to answer:
Insurances for passengers
Prices are fixed, excess payments are not added
We work without interruption, holidays included
Book in advance to get free children's car seats in the taxi
Free waiting for passengers when their flight is delayed
Free Wi-Fi on board
Istanbul Airport – Sveti Vlas taxi rates
| | | | | |
| --- | --- | --- | --- | --- |
| From: | To: | Distance: | 1-4 pers. | 4-5 pers. |
| Istanbul Airport | Sveti Vlas | 370 км. | 210 € | 300 € |
Distance: 377 km | Driving time: 5 h min | Cities passing through: Kırklareli
How to Book a Transfer from Istanbul to Sveti Vlas
Quote
Send your requirements using the form below
Booking
We will send you an estimate and confirm details
Done!
Our driver will meet you at the airport or at your hotel
Book a Transfer in Istanbul by filling the form below
Other routes
Details worth learning about Sveti Vlas
Seasoned yachtsmen can give Sveti Vlas its due when conditions for holding regattas are concerned. That small resort town has spread an exquisite modern infrastructure on its area, comprising business centers, spa clubs, and cabinets offering modern relaxation techniques.
Along the coastline the space is dotted with inviting restaurants many of which are open 24/7, sumptuous hotels from whose windows you can feast your eyes at any time on the marine landscape and no less picturesque sights around.
For family vacations, a visit to the aquaparks located not far away is a great option for an outing. The nearest aquaparks can be reached using complimentary public transport.