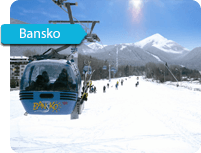 Transfers from Plovdiv to Bansko
If your flight touches down at Plovdiv airport, and you are heading to the beautiful mountain town of Bansko, you will make the best choice for your smooth trip to there, without any hassles, and with comfort at the highest level. Book your transfer with Around Bulgaria, and you will leave every care for the trip in our hands.
There are many reasons because of which you will like the transfer, and they will all be combined in a service that will pamper you:
the fees we charge are reasonable;
step inside a clean vehicle, without a trace of cigarette smoke, and with pleasant temperature of the ambience;
the vehicles of our company are always on the ready, and offer diverse amounts of space: we have both cars and minibuses;
you will easily talk to the driver, ask questions, and get the information you need, because our drivers all speak English on a very good level;
if there is a delay with your flight, don't get frustrated, thinking that you will miss the taxi: our drivers wait for delayed flights, because we follow the schedules and know when there are delays;
coming with sports equipment is not a problem, we have sufficient storage space in our vehicles;
your children will travel in car seats, or on boosters, just tell us beforehand you are arriving with children and need special seating arrangements; our car seats and boosters are complimentary;
one more complimentary service is the availability of Internet connection in our vehicles, to enable you to check your mail, browse for information, or do some other tasks online en route for Bansko.
Prices for a taxi (transfer) from Plovdiv to Bansko
| | | | | | |
| --- | --- | --- | --- | --- | --- |
| From: | To: | Distance: | < 4 pers. | < 5 pers. | < 8 pers.. |
| Plovdiv | Bansko | 155 km. | 75 € | 90 € | 105 € |
How you will pay for the transfer Plovdiv-Bansko
We will not bother you by insisting that you should pay in advance. When the transfer reaches Bansko, you will pay the driver, in cash. Don't expect unpleasant surprises in the form of extra amounts added to the transfer fee you were told at the time of booking. The fee will remain unchanged. Yet another convenience is the possibility to pay in any currency you have, without pressing you to find an exchange office or hurry to a bank to change from another currency to Bulgarian leva.
How to Book a Transfer from Plovdiv Airport
Quote
Send your requirements using the form below
Booking
We will send you an estimate and confirm details
Done!
Our driver will meet you at the airport or at your hotel
Bansko
Bansko will charm you with its setting, with the Pirin mountain towering nearby, and with the facilities for winter sports. It is often the site for skiing events, alpine and biathlon competitions. For tourists, there are ski slopes, and snowboarding aficionados will find excellent opportunities for practising as well. The numerous hotels and eateries are always ready for welcoming guests. There is also an annual jazz festival which draws crowds.
Other Routes
Review Hans, 34 years, Hamburg, Germany, with a group of friends
We arrived in Plovdiv airport, and we had to reach Bansko for our winter holiday. We weren't sure we would cope with public transport, so we asked friends who had been to Bulgaria, and they recommended your company. It was a pleasure to see our driver as we went out of the airport. He was holding a sign to make it easy for us to recognize him. We asked him a lot of questions during the trip, and he answered all of them, to make it easy for us to make our plans. He drove us to the doors of the hotel, and wished us a nice stay. The driver spoke good English, we could understand him easily. Thank you for the level of your taxi service.