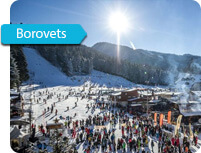 Transfers from Plovdiv to Borovets
Book a transfer from Plovdiv to Borovets and your vacation will start right after your arrival in Bulgaria! An English-speaking driver will be waiting for you at the Plovdiv airport lounge with a sign, will help with loading luggage and take you to Borovets – right to the hotel!
Plovdiv-Borovets Taxi prices are fixed, you pay as much as was announced while ordering. In addition, with a taxi, we offer our customers a lot of bonuses – discounts and free services. Transfer Plovdiv-Borovets from AroundBulgaria.com will save you from the hassle. Here are some more benefits:
Child seats – free
Free waiting, even if flight is delayed
Free wi-fi in the car
The most favorable prices and flexible system of discounts
Prices for a taxi (transfer) from Plovdiv to Borovets
| | | | | | |
| --- | --- | --- | --- | --- | --- |
| From: | To: | Distance: | < 4 pers. | < 5 pers. | < 8 pers. |
| Plovdiv | Borovets | 125 km. | 70 € | 85 € | 100 € |
How you will pay for the transfer Plovdiv-Borovets
We do not insist on payment in advance. When the car reaches Borovets, you will pay the driver in cash. No unpleasant surprises in the form of additional payments over the amount that you were informed during the booking. The fee will remain unchanged.
It is also possible to pay in any currency you have. You do not need to look for an exchange office or a bank to convert from any other currency to a Bulgarian lev.
How to Book a Transfer from Plovdiv Airport
Quote
Send your requirements using the form below
Booking
We will send you an estimate and confirm details
Done!
Our driver will meet you at the airport or at your hotel
Borovets
Borovets is an incredibly large ski resort in Bulgaria. It is known throughout Europe, modernized lifts and cable cars are designed for a large number of active leisure enthusiasts. The mountain surface is equipped with 18 ski slopes and long jumps. If you have little experience in skiing – you can take a few lessons from professional instructors who will be happy to help you.
For its guests the resort offers a large number of hotels and hotels, as well as cafes, bars, clubs and restaurants. You can also see carnivals on skis, which are arranged in the evening hours of the day. This is an amazing sight to visit. In addition to skiing and snowboarding, you can visit billiards, bowling and much more. Borovets is a great winter resort for relaxing with friends and family!
Other Routes