Taxi in Sofia ride and enjoy!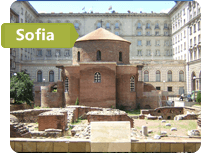 Sofia, the big, busy capital of Bulgaria, is a city filled to the brim with culture and history. Some people come for the architecture – others for the nightlife – but whatever it is that attracts you, we're confident that you'll soon want to stay!
So if you're planning a trip to the Bulgarian capital, then why not talk to AroundBulgaria for help getting around? We're proud to be able to offer one of the leading taxi services in Sofia… with a range of smart, professional vehicles offering you a reliable service at affordable rates.
The Benefits of Booking our Sofia Taxi Service
Our taxi service is Sofia is fast, reliable and competitively priced. Beyond those basic factors though, there are a range of further advantages you'll be able to enjoy when you trust us with your transport requirements! Here are just a few:
Our cars can take you anywhere, and everywhere! No matter where you need to get to in Sofia or beyond, talk to us now and we'll be able to offer you the best rates going on your transport in Bulgaria.
We'll cater to any size group, as well. We've got everything from cars to SUVs and minibuses on offer for your trip.
You can tailor our service to meet your needs – no matter whether you're planning a shopping trip, an airport transfer, a day excursion or even a business trip.
Book your taxi service at any time! You can contact us 24/7 to reserve your car and driver in Sofia.
All of our clients are covered automatically by our inclusive vehicle and passenger insurance policies.
Travelling with young children? We've got everything to keep our younger passengers comfortable, including complimentary children's car seats.
Our vehicles come kitted out with wireless Internet, allowing you to surf the web while you travel!
Comfort comes first, and you'll always be in complete control of your surroundings – even down to setting the temperature, the air-conditioning, or taking charge of the music player.
Book your Sofia Taxi Service Today
Talk to AroundBulgaria today, and take advantage of our professional taxi services in Sofia! All you need to do is give us a call, and make your booking with our friendly advisor. We'll offer you a quote over the phone, and after that the price is fixed – no hidden charges, no extra fees, and no advance payment either! You won't need to pay a penny until you've arrived safely at your destination. For your convenience, our drivers can also accept payments in a range of different currencies. So don't worry if you haven't had a chance to buy your Bulgarian Levs yet – you can just as easily pay your fare in Euros, in Russian Rubles or in US Dollars.
With AroundBulgaria, taxi rates are calculated either according to the distance travelled, or in relation to the amount of time you need the vehicle for. We'll be happy to discuss your requirements when you call, and find the arrangement which works best for you! And don't forget to ask about our range of special discounts! If you're booking multiple services (for example, an airport transfer plus a day excursion) we'll be only too happy to give you a discount on the price of your booking.
So talk to AroundBulgaria today, and let us take care of all your transport needs during your holiday to Bulgaria – with our first class taxi service in Sofia.
| | | | | | |
| --- | --- | --- | --- | --- | --- |
| From: | To: | Distance: | < 4 pers. | < 5 pers. | < 8 pers. |
| Sofia | Burgas | 400 km | 160 € | 180 € | 200 € |
| Sofia | Varna | 450 км. | 190 € | 210 € | 235 € |
| Sofia | Bucharest | 400 км. | 190 € | 220 € | 265 € |
| Sofia | Istanbul | 600 км. | 295 € | 320 € | 350 € |
| Sofia | Sofia Central Station | 10 км. | 15 € | 25 € | 35 € |
| Sofia | Pamporovo | 229 км. | 100 € | 115 € | 135 € |
| Sofia | Borovets | 71 км. | 45 € | 55 € | 60 € |
| Sofia | Sunny Beach | 413 км. | 175 € | 195 € | 220 € |
| Sofia | Plovdiv | 144 км. | 70 € | 85 € | 100 € |
| Sofia | Golden Sands | 522 км. | 200 € | 220 € | 245 € |
| Sofia | Nesebar | 412 км. | 175 € | 190 € | 220 € |
| Sofia | Thessaloniki | 315 км. | 160 € | 180 € | 200 € |
How to Book a Transfer from Sofia
Quote
Send your requirements using the form below
Booking
We will send you an estimate and confirm details
Done!
Our driver will meet you at the airport or at your hotel
Book a Transfer in Sofia by filling the form below
Other Routes
About Sofia
Sofia, the country's capital, is also its largest city. It is pleasantly surrounded by mountains rising in verdant splendor. The highest mountain invites with a huge natural park. It can be reached by chairlift. At the beginning of the mountain slope is the National Museum of History. It is a wealthy trove of artifacts, including unique Thracian treasures abounding in a host of gold and silver items.
By the museum is located the St Panteleimon Church with unique ancient murals. In the center of Sofia is the famous memorial church named after Alexander Nevsky. The monument of the Russian tsar and liberator Alexander the Second in the central square is a worthy landmark. The St Nicholas Church was built as homage to Russian soldiers from the liberation army who brought Bulgaria liberty from Ottoman domination.
Review
Sonya and Peter, 27 years, Valencia
My brother and I had to travel, and it was an urgent trip. We had to reach from Sofia to Romania, on a trip for business. I was recommended the AroundBulgaria.com site by friends, so I used their services for a trip to Constanta. A driver of the company staff met us at the Sofia Airport, right at the agreed time. He offered us to help us load our cases into the car (we politely said no, it was OK to carry them on our own), and drove us to the hotel in Constanta.

I liked greatly how the driver was all the time caring, taking heed of our comfort; he asked what kind of music we preferred to have playing, whether he should adjust the air-conditioning, and about other wishes we might have. We heard him talk fluent English, and we asked him if all the company drivers can speak and explain well in English, and he said yes. Soon the taxi approached the hotel, we paid and said goodbye, pleased with our driver. The taxi service for our transfer still makes us feel very satisfied with it!