Transfers from Constanta Airport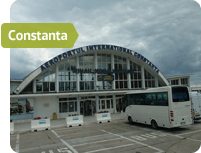 Are you planning a holiday in Bulgaria this year? No matter whether you're travelling to Bulgaria for its beautiful beaches, for the ski resorts, for the culture, cuisine or even on business – here at AroundBulgaria, we've got the perfect solution to all your Bulgaria travel needs.
We offer a fast and efficient service for visitors flying in through Constanta Airport in neighbouring Romania – our courteous drivers will pick you up from your flight, before delivering you safely to wherever you need to be! You'll find that a Constanta Airport transfer with AroundBulgaria is not only the professional way to travel to Bulgaria – but it's one of the cheapest, too!
The Benefits of our Constanta Airport Transfer Service
Fast service. Comfortable vehicles. Affordable prices. These factors alone are enough to make AroundBulgaria stand out from the competition… but we didn't stop there! We've done everything we can to make our Constanta Airport transfer service the best it could possibly be for our clients.
Transfer Rates from Constanta Airport
| | | | | | |
| --- | --- | --- | --- | --- | --- |
| From: | To: | Distance: | < 4 pers. | < 5 pers. | < 8 pers. |
| Constanta | Varna | 152 km | 100 € | 120 € | 140 € |
| Constanta | Burgas | 280 km | 150 € | 170 € | 200 € |
Here are some of the further benefits that we provide:
English-speaking drivers will be able to answer your questions, and offer you a warm welcome as you touch down in Romania!
Our fleet of vehicles allow us to cater to all kinds of groups – from individuals and families, through to larger groups requiring minibus travel.
No need to worry if your flight gets delayed. Our drivers will always wait for you at the airport, with no extra charges added for the service.
We equip our cars with wireless Internet, allowing you to pass your journey checking emails or surfing the web.
Got extra luggage? Carrying sports gear, like skis or a surfboard perhaps? Or maybe you just need a children's car seat for your younger passengers. Whatever your needs, we'll cater to you with ample space, facilities and even roof racks mounted to our vehicles.
Our services are designed to ensure you maximum comfort during your transfer… from the cleanliness of our smoke-free vehicles, through to offering you complete control over the music player and air-conditioning!
We've already mentioned our affordable rates for a transfer from Constanta Airport to your destination in Bulgaria… but on top of that, we can also offer you a range of exciting discounts and money saving offers when you book multiple journeys with us. So, if you're a regular or returning customer – or perhaps even a corporate client – just let us know your requirements when you book. Our advisors will be happy to talk you through the discounts available!
How to Book your Constanta Airport Transfer
Booking a transfer from Constanta Airport to your hotel in Bulgaria couldn't be easier. All you'll need to do is give us a call, and let us know the date and time that you'll be arriving. There's nothing to pay in advance – we'll arrange to come and pick you up from the airport, and you don't even need to think about making a payment to us until we've got you safely to your destination.
For your convenience, our drivers can accept payments in a range of different currencies… including Bulgarian Levs, Russian Rubles, US Dollars or in Euros. On top of that, you'll never need to worry about hidden charges or additional fees when you travel with AroundBulgaria. The price we quote you over the phone will always be the final price, even if our driver ends up waiting for your delayed flight!
So get in touch with AroundBulgaria today – and buy yourself a little comfort on your transfer from Constanta Airport to Bulgaria.
How to Book a Transfer from Constanta Airport
Quote
Send your requirements using the form below
Booking
We will send you an estimate and confirm details
Done!
Our driver will meet you at the airport or at your hotel
About Costanta
Constanta is a very large city on the Black Sea coast. It is the third largest in the country in terms of population. That fascinating place has plenty to tell, as it is steeped in rich history, thanks to which its territory contains a huge number of historical monuments. The greatest attractions rivaling for attention are the old ships of Roman and Greek imperial times which are found by the pier.
Constanta is also renowned thanks to its casino which was inaugurated and started welcoming visitors in the last century. While vacationing in the coziness of the city, be certain to visit the dolphinarium and the aquarium. Special attention is due to the gates to the city, which are embellished with full-sized ships. These ships have become the symbols of the whole picturesque area.
Reviews
Bernardina Doneski, 27 years, Dobrna, Slovenia
Our flight landed at Constanta Airport, and in order to reach the Golden Sands resort, we booked a transfer for 5 persons with AroundBulgaria.com.

We were pleasantly surprised by the service: the minibus was great, the seats were comfortable, the driver was professional. It was a very discount transfer, we split the amount among ourselves, and it was much cheaper per person than we had initially envisaged.

The way was not so long, but even during the short distance the driver showed he was a real professional. He fulfilled all our requests and wishes. He even offered a tablet (there was Internet service in the minibus).

If we compare the level to taxi services in Slovenia – Slovenian taxi drivers are not anywhere near as good as the AroundBulgaria.com drivers. We liked everything very much. We also booked a return transfer with the same company.
Jake Cooke, 42 years, Denholme, Wales
My wife and I wanted to get some vacation in the way we used to when we were younger, a seaside vacation. Our kids presented us with a Bulgarian vacation. Everything was included, but the transfer from the airport and the return transfer were things we were supposed to take care of on our own. We combined with other tourists and booked a car with AroundBulgaria.com. The minibus was comfortable, and the driver was waiting for us at the appointed time. The rate per person was quite affordable. They also offered us excursions, but we declined. There was something I liked very much – the driver did not bother us in the least, he simply offered us the excursions, and after we declined, he continued driving.