Book a Taxi to / from Borovets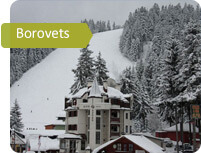 If you're planning a trip to Borovets this year, then make sure you you book your airport transfer in advance! We'll provide you with reliable transport at some of the lowest rates around! Our taxi service to Borovets from any airport combines comfort and affordable price.
The Advantages of our Taxi Service in Borovets
With all of our taxi services we provide fast, comfortable transport at some of the lowest rates around. These aren't the only benefits you can expect though, as you'll see from the following list:
We can take you anywhere in country, with a reliable taxi service covering all of Bulgaria
Business or leisure, shopping trips or excursions – we've got the transport solution for you
Our fleet includes cars, vans, minibuses and buses up to 50 people
All vehicles and passengers are insured
Do you need children's seats in the car? Let us know and we will provide child seats for the trip
Comfort comes first with AroundBulgaria, you control interior temperature and music
We ensure that all of our cars are clean and smoke-free
Book your Taxi Service to / from Borovets Today
| | | | | | |
| --- | --- | --- | --- | --- | --- |
| From | To | Distance: | < 4 pers. | < 5 pers. | < 8 pers. |
| Borovets | Sofia | 71 km | 55 € | 65 € | 65 € |
| Borovets | Istanbul Sabiha | 581 km. | 315 € | 340 € | 380 € |
| Borovets | Istanbul Ataturk | 230 km. | 295 € | 315 € | 350 € |
| Borovets | Plovdiv | 125 km. | 80 € | 90 € | 105 € |
To arrange your affordable and taxi service in Borovets, simply send us a quote request. We can charge for a taxi either by time or by distance. Our advisors will be keen to find the deal that works best for you, and offer you a competitive quote on the service!
As soon as we've agreed on a price, we'll fix it in place. You'll never have to worry about extra charges with AroundBulgaria, or any hidden fees being added to your bill! All payments are collected by our drivers, and not until you've arrived safely at your destination… so need need to worry about advance payments. We support a range of different currencies too, and will be happy to collect payments in Bulgarian Levs, Euros, US Dollars or in Russian Rubles.
Remember to ask your advisor about our range of special offers for corporate, regular and returning customers. When you book multiple trips – for example, an airport transfer plus an excursion by taxi – we'll be only too happy to extend some generous discounts in your direction!
Give AroundBulgaria a call today, and find out more about our taxi service from / to Borovets. We're ready to help you plan the perfect skiing trip in Bulgaria!
How to Book a Transfer in Borovets
Quote
Send your requirements using the form below
Booking
We will send you an estimate and confirm details
Done!
Our driver will meet you at the airport or at your hotel
Book a Transfer in Borovets by filling the form below
Borovets
Borovets (or Chamkoria) is a famous ski resort located in Bulgaria, not far from the wonderful capital of Sofia. Nowadays Borovets is a skiing center and boasts state-of-the-art luxury hotels. The resort also offers a vast number of restaurants where you can sample national cuisine, as well as bars and cafés.
Borovets was founded in 1896. It was planned as a special place for the recreation of the tsar and the nobility. That is also a historical place, because the World Biathlon Championship was held there in 1993. Nowadays a number of smaller-scale competitions in winter sports are also carried out. The resort season starts in the fall (in November), and finishes in the spring (in March).
Borovets is one of the oldest and most popular ski resorts in Bulgaria… and in addition to fantastic slopes, it features a great atmosphere of bars and restaurants, museums and other cultural attractions. Meanwhile, it's only a short ride to the nearby Rila Monastery, one of the most famous historical sites in Bulgaria!