Taxi in Golden Sands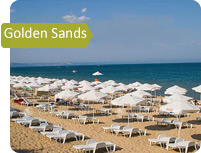 Golden Sands is a popular beach resort, located just along the coast from the seaside city of Varna. The area features beautiful, golden sand beaches in addition to a wide range of shops, markets, restaurants and bars – in short, it's the ideal destination for a lively summer holiday!
So if you're planning a trip to Golden Sands this year, be sure to do it with the local travel experts at AroundBulgaria. We've got a whole fleet of cars on hand to get you from A to B, and our friendly services are offered at some of the most competitive rates you'll come across.
Why Book us for a Taxi in Golden Sands?
In addition to our reliable drivers and affordable rates, there are a range of further advantages you'll be able to look forward to when you book your Golden Sands taxi service through the expert team at AroundBulgaria! Here are a few further benefits to look out for:
Need to go somewhere else during your trip to Bulgaria? Our taxi service can take you literally anywhere you need to go.
We offer a flexible service that'll be able to accommodate any kind of trip you might have in mind – from business meetings to cultural excursions.
Need a taxi late at night? Not a problem. With a 24/7 booking system on hand, we can provide a vehicle at any time you need it.
Need a smart, professional car for you business trip? Or maybe a minibus for a group outing! Our varied fleet features every option you could need.
We insure all of our vehicles and passengers, for your peace of mind.
If you're travelling with your children, just ask us and we'll be happy to provide them with car seats.
We provide Internet access in all of our cars, allowing you to browse the web at your leisure.
Set your surroundings to your liking, with complete control over temperature and music settings.
All of our vehicles are completely smoke-free, and kept to a fantastic standard of clean.
Book a Taxi in Golden Sands Now!
| | | | | | |
| --- | --- | --- | --- | --- | --- |
| From: | To: | Distance: | < 4 pers. | < 5 pers. | < 8 pers. |
| Golden Sands | Burgas | 144 км. | 85 € | 90 € | 110 € |
| Golden Sands | Varna | 17 км. | 30 € | 35 € | 45 € |
| Golden Sands | Sofia | 522 км. | 200 € | 220 € | 245 € |
| Golden Sands | Istanbul Ataturk | 470 км. | 245 € | 265 € | 375 € |
Simply pick up the phone and give us a call today, to arrange your reliable taxi service in Golden Sands. Our taxi rates can be charged either by distance or by time… and when you call, our advisors will help you to work out which would be the best deal for you.
We believe in complete transparency with our pricing, and we'll never add additional fees or charges to your bill. There's no need to pay anything in advance, either. You can simply give the money to your driver once you've arrived at where you need to be. Not had time to get your hands on the local currency yet? Not a problem! We can accept payments in Russian Rubles, Euros or US Dollars too.
Remember to let us know if you require multiple services. If you need a taxi service in addition to an airport transfer, or a day excursion for example, then you'll be able to unlock our range of exciting special offers. Just ask our advisor for more details!
Call the friendly team at AroundBulgaria today… and reserve yourself a friendly, reliable and affordable taxi service in Golden Sands.
How to Book a Transfer in Golden Sands
Quote
Send your requirements using the form below
Booking
We will send you an estimate and confirm details
Done!
Our driver will meet you at the airport or at your hotel
Book a Transfer in Golden Sands by filling the form below
Golden Sands
Golden Sands is one of the most preferred Bulgarian resorts, located not a short distance from Varna, the country's seaside capital. The inviting sandy beach spans a large area along the Black Sea coast. In the summer, the sea water temperature reaches an inviting 25 degrees Centigrade, and it retains its warmth even throughout the night.
The resort is also famous for its healing mineral water sources which are health-restorative. You will also find a number of artisans' offices where you can observe local artisans creating unique souvenirs.
The resort offers a palette of comforts and conveniences for memorable vacations, engaging in sports, entertainment, and health restoration. Because of the high quality and cleanliness of the beach, the sea water and the sand, the Golden Sands resort is awarded a Blue Flag every year.
Regular taxi service
Other Local Taxi services: Omega taxi.
The difference with our service is – the driver will not speak English, will not meet you in the arrivals, will accept only cash.
Review
Steffen, 28 years, Eisenach, Germany
Hello, I would like to share my experience in using the services of AroundBulgaria.com.Last year my friends and I were on vacation in Bulgaria, we landed at Plovdiv Airport, the taxi driver was already waiting for us, and he promptly took us to Golden Sands. He offered us an excursion, and we eagerly agreed, as I found the cost very, very reasonable. And thanks to our great guide, we managed to visit very interesting places, and we enriched our impressions by learning new things, fascinating facts.

For the excursion they prepared a comfortable minibus with air-conditioning. The journey was impressive, with all conveniences. I recommend the company to everyone, and I thank its employees for the dedication and high level of servicing. Low rates, polite employees — you will find all these advantages with AroundBulgaria.com.