Book a Taxi in Nessebar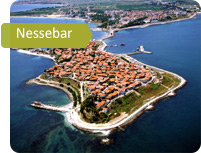 Nessebar is one of the oldest and most famous destinations in Bulgaria – an ancient town with over forty ornate, stone churches, set against the timeless waters of the Black Sea. As a cultural destination, there's nothing quite like the blend of fascinating architecture and rich museums on offer around this UNESCO World Heritage site… while just down the road you'll be able to visit some of the most popular of Bulgaria's golden beaches!
When it comes to travel in Nessebar, AroundBulgaria have got you covered. We offer a range of taxi and transport services in Nessebar and beyond, helping you to get the absolute most out of your holiday to this historic corner of Bulgaria. Give us a call, and find out what we'll be able to do for you!
The Many Benefits of our Taxi Service in Nessebar
We're proud to be able to offer a taxi service in Nessebar combining speed and efficiency, while always at rock-bottom rates! On top of those basic qualities though, there are a number of other reason to be booking your holiday transportation through us. Here are just a few:
Our taxi service is available throughout the country… which means we'll be able to get you to literally any destination in Bulgaria!
Coming to Bulgaria on business? Or maybe you're here for shopping, beaches and cultural excursions! Whatever the occasion, we can provide a transport solution to fit.
We'll provide you with transport at your request, 24/7. Just let us know when you need a taxi.
Need an SUV? Or a minibus, maybe? Our fleet of taxi vehicles includes far more than just regular cars!
All of our passengers and clients will be automatically covered by our full insurance.
If you're carrying heavy items such as surfboards, let us know and we'll provide a roof rack. We can also offer complimentary children's seats for your younger passengers.
Enjoy wireless Internet during your taxi ride! All of our cars and other vehicles come fully wifi enabled.
Our passengers are always welcome to set the temperature and music player to their liking!
All of our cars and minibuses are smoke-free, and kept to an impressive standard of cleanliness.
Book Your Nessebar Taxi Service Now!
| | | | | | |
| --- | --- | --- | --- | --- | --- |
| From: | To: | Distance: | < 4 pers. | < 5 pers. | < 8 pers. |
| Nessebar | Burgas | 35 km | 25 € | 30 € | 40 € |
| Nessebar | Varna | 100 km | 55 € | 65 € | 75 € |
| Nessebar | Sofia | 412 km | 175 € | 190 € | 220 € |
| Nessebar | Istanbul | 361 km | 210 € | 235 € | 290 € |
Give AroundBulgaria a call today, to make arrangements for a convenient taxi service in Nessebar. Our taxi services can be charged according to time, or even by distance. When you call, our friendly advisors will be only too happy to set you up with an affordable quote based on your specific requirements.
With AroundBulgaria, there are never any hidden fees or extra charges to worry about. All prices are fixed as soon as you've agreed on a quote for your taxi service. You won't need to worry about paying for your service in advance, either. Instead, simply have the payment ready for your driver on arrival at your destination! But don't panic if you haven't got your hands on local money yet… our drivers will be happy to accept payments in Russian Rubles, US Dollars or in Euros.
We are always happy to provide special discounts to customers who book multiple trips with us, too – so when you call to book a transfer plus a taxi service, for example, you'll be able to gain access to a whole range of additional savings.
Get in touch with AroundBulgaria today, and prepare to enjoy VIP treatment at rock bottom rates… with our taxi services in Nessebar and beyond.
How to Book a Transfer in Nessebar
Quote
Send your requirements using the form below
Booking
We will send you an estimate and confirm details
Done!
Our driver will meet you at the airport or at your hotel
Book a Transfer in Nessebar by filling the form below
Nessebar
The town of Nessebar has one spot which is hugely renowned among tourists worldwide: the South Beach. It is replete with modern conveniences which provide the basis for recreation, swimming and diving, and tourists can rent chaise longue chairs, parasols, equipment needed for comfortable sunbathing and enjoyable periods on the beach.
The resort town extends an enormous palette of services for tourists. Separate mention is due of the picturesque coastal strip provided with all modern facilities for vacationing with families. Aficionados of aquatic entertainment will not have an instant of boredom, as the famous Action aquapark is nearby.
Rose oil, the symbol of Bulgaria, is sold in each store. Souvenirs for the family and friends are also in profusion.
Regular taxi service
Sofia Airport Official Taxi Partner – OK Taxi.
Other Local Taxi services: Step-taxi.
The difference with our service is – the driver will not speak English, will not meet you in the arrivals, will accept only cash.