Book a Taxi Service in Ravda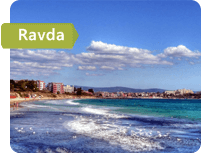 Ravda is a small resort town nestled on Bulgaria's Black Sea coast. It's close to other popular destinations at Sunny Beach and Nessebar, while Ravda can be easily reached with a flight into the nearby Burgas Airport.
If you're planning a summer break to Ravda, with its beautiful beaches and quiet resort atmosphere, then be sure to talk to an advisor at AroundBulgaria first. We've got the leading selection of taxi services in the area, and we'll do everything we can to help you get the most out of your holiday in Bulgaria this year!
The Many Advantages of our Taxi Service in Ravda
When you book a taxi with AroundBulgaria, you'll be able to look forward to a reliable service delivered at affordable rates. On top of that though, we've got a range of additional benefits in store for you:
Regardless of what you have planned for your trip to Bulgaria, we'll be able to help… our taxi service covers the entire country!
We can provide transport for your business trip, to help you inspect properties in the country, or for any range of leisure activities and day excursions.
Feel free to contact us for transport at any time of night or day… we offer a full, 24/7 taxi booking service!
Our taxi service takes advantage of an extensive fleet of vehicles… including cars, minibuses and SUVs.
We have comprehensive insurance policies, covering all of our vehicles and passengers.
Our cars come with roof racks for your larger items of luggage, while you just need to ask for us to provide you with children's car seats.
Want to surf the web en route? Not a problem! All of our vehicles come equipped with wireless Internet for your convenience.
Feel free to adjust everything in the car, and have your surroundings just the way you like them – including temperature, air-conditioning and even the music player!
Our vehicles are maintained to a high standard of cleanliness, and are kept completely smoke-free.
Book a Ravda Taxi Service Now!
| | | | | | |
| --- | --- | --- | --- | --- | --- |
| From: | To: | Distance: | < 4 pers. | < 5 pers. | < 8 pers. |
| Radva | Burgas | 31 km | 20 € | 25 € | 35 € |
| Ravda | Varna | 100 km | 60 € | 65 € | 80 € |
| Ravda | Istanbul | 356 km | 210 € | 235 € | 290 € |
Give us a call today, to make a book for an efficient and affordable taxi service in Ravda. Our rates are charged either by distance, or according to the time you need the vehicle for. Talk to our advisors, and they'll help you to work out which deal suits you best!
Once you've found a deal that suits your needs, we'll fix that price in place – we never add additional charges later on, and with AroundBulgaria there are no hidden fees to worry about. We won't ask you for advance payments, either. In fact, you'll have nothing to pay until you've arrived at your destination, where you can simply give the appropriate money to your driver in person. We'll be happy to take your payment in any of a range of different currencies – including Bulgarian Levs, Russian Rubles, Euros or US Dollars!
If you're booking multiple services with us, we'll also be happy to extend our range of special savings to you! Ask your advisor for more details when you call.
For all your transport needs in Bulgaria, be sure to talk to us first… we look forward to helping you get the most out of your holiday, with our taxi services in Ravda and beyond.
How to Book a Transfer in Ravda
Quote
Send your requirements using the form below
Booking
We will send you an estimate and confirm details
Done!
Our driver will meet you at the airport or at your hotel
Book a Transfer in Ravda by filling the form below
About Ravda
Ravda's population is not numerous. Its citizens are about two thousand, but the resort area of the village comprises a large number of hotels and guest houses where accommodation can be booked. The location of Ravda is very convenient for transport services.
The beautiful resort village is vastly popular for its cleanliness and quiet ambience, and in the small stores on the streets tourists can get different souvenirs to take home to friends and relatives. The famous fruit market is right in the center of the village. For tourists, Ravda is also a great place for enjoying gourmet meals.
The sunsets in the area of Ravda are really stunning. During the day, it is a pleasure to enjoy the balmy sea which relieves the heat of the sun. That is why it is most tourists' favorite activity to delight in the picturesque nooks along the coast, the noise of the tide, and the freshness of the water.
Regular taxi service
Other Local Taxi services: Step taxi
Unlike our service – the driver will not speak English, might not meet you at the arrivals, will accept cash only.
Review
Michał Chmielewski, 32 years, Lublin, Poland
We decided to spend our honeymoon in Bulgaria. Our friends recommended us Ravda, where they had stayed recently. After the flight landed in Varna, we were faced with the serious problem of reaching our hotel. The distance was not very small – about 200 km. Spotting the advertising billboard of AroundBulgaria.com, we decided to use their service.

And we did not regret our decision in the least. We reached our destination in about two hours, and while traveling to it we visited picturesque local sights. While traveling, we talked to the driver, learned about another service, car rental with a driver. We used that service too in the next few days, and we visited the nearby towns. Everything was great!