Taxi to Sunny Beach – for your safe and pleasant journey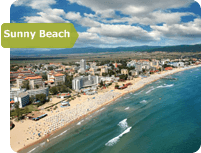 Sunny Beach is located just 40 km north of Burgas, and this popular resort town is one of Bulgaria's most lively and exciting destinations for a summer break.
If you're planning a holiday of sun, sea and sand on the Bulgarian Riviera, then be sure to talk to the experts at AroundBulgaria before you arrive! We offer a dedicated Sunny Beach taxi service, with friendly drivers and affordable cars that'll be sure to help you get the most out of your trip.
The Benefits of Booking our Sunny Beach Taxi Service
When you book a Sunny Beach taxi service with the team of reliable drivers at AroundBulgaria, you'll be able to look forward to a whole range of added benefits! Here are just a few of the advantages we're able to offer our clients:
Our taxi services are as versatile as they are reliable – in fact, we'll be able to take you safely and swiftly to any destination in the whole of Bulgaria!
Tell us what you had planned, and we'll be able to accommodate you with a fully customised service – no matter whether it's a business trip, a day excursion or even a shopping spree.
We can provide a taxi service for whatever time you need it – with 24-hour bookings on offer for your convenience.
We can provide you with vehicles for all kinds of holidays and special events – our fleet includes cars, minivans, SUVs and minibuses.
All of our clients can enjoy complete peace of mind, knowing that they're fully covered by our complimentary vehicle insurance.
Travelling with young children? Let us know, and we'll provide children's car seats. We also have roof racks ready to cater to your oversized sporting equipment.
We equip our vehicles with wireless Internet access, which you'll be able to enjoy even while in transit!
Your comfort matters to us, and we'll do everything we can to make your journey more pleasant. You'll have full control of the temperature for example, as well as air-conditioning and background music.
We maintain all of our vehicles to an excellent standard of cleanliness – clean inside and out, and completely smoke-free.
Book your Sunny Beach Taxi Service Today
| | | | | | |
| --- | --- | --- | --- | --- | --- |
| From: | To: | Distance: | < 4 pers. | < 5 pers. | < 8 pers. |
| Sunny Beach | Burgas | 37 км. | 25 € | 30 € | 40 € |
| Sunny Beach | Varna | 93 км. | 55 € | 60 € | 75 € |
| Sunny Beach | Sofia | 414 км. | 175 € | 195 € | 220 € |
| Sunny Beach | Istanbul (Ataturk) | 362 км. | 190 € | 220 € | 250 € |
Just call us today, to arrange your reliable Sunny Beach taxi service. We've got a team of helpful advisors on hand, who'll be able to get you set up with a booking. Just let us know what you need, and we can set a rate either according to distance travelled or for the time you need the taxi for.
With AroundBulgaria, all of our prices are fixed. You'll only ever be charged the agreed rate, with no need to worry about added fees or charges later. What's more, you'll never be asked to pay in advance. You can simply make a payment to your driver once you've arrived safely at your destination! For your convenience, we'll take payments in a range of currencies… including Bulgarian Levs, Russian Rubles, US Dollars and Euros.
Don't forget to ask us about our special offers, too! We have a range of discounts open to corporate, regular or returning customers. Just ask our advisors about the discounts we can provide when you book multiple services at a time.
Don't hesitate to give our expert team a call… we'll be happy to offer you a competitive quote, and cater to all your transport requirements with our Sunny Beach taxi service.
How to Book a Transfer in Sunny Beach
Quote
Send your requirements using the form below
Booking
We will send you an estimate and confirm details
Done!
Our driver will meet you at the airport or at your hotel
Book a Transfer in Sunny Beach by filling the form below
Regular taxi service
Sofia Airport Official Taxi Partner – OK Taxi.
Other Local Taxi services: Step taxi.
The difference with our service is – the driver will not speak English, will not meet you in the arrivals, will accept only cash.
Sunny Beach
Sunny Beach is a famous Bulgarian seaside resort, and it is the country's largest one. Tourists who have arrived to this outstanding resort have plenty of opportunities to bask in the sun on the beach, engage in sports, sample local cuisine in its restaurants, enjoy music and dancing in the discos and youth clubs.
In Sunny Beach you will find a plethora of cafés and bars which are invitingly located right on the beach. That is a great resort for a vacation with children. There are children's pools, playgrounds, and animators hold fascinating competitions and enjoyable games for children.
Review
Kauko Hölsö, 48 years, TURKU, Finland
The tourist business of our company involves frequent trips around Bulgaria. One of the prime factors helping us manage our business is to have at all times secure transport to quickly travel among the resorts and the offices located there. Our main office is located in Sunny Beach, and it is there that I head straight away after landing at Varna Airport, to get down to tasks and solve problems accumulated. I can get in such short time to any needed place, availing myself ofAroundBulgaria.com.

The company has a palette of discounts to reward regular customers, and I like it very much. Besides, it is a pleasure to be traveling in a really nice car, knowing that the passenger compartment will provide me with Internet and I will be pampered with music: my favorite playing as background. I haven't even given a thought to the option of another company for my journeys around Bulgaria. Why, when I have AroundBulgaria.com at my disposal?