Taxi in Sveti Vlas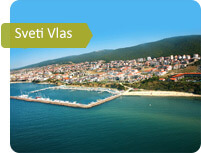 The sleepy coastal town of Sveti Vlas is located just half an hour's drive from the ancient settlement at Nessebar. Here on the beautiful Black Sea coast, you'll be surrounded by gorgeous beaches, lively resorts, as well as some of the richest ancient history that Bulgaria has to offer!
When it comes to arranging transport during your holiday, we've got the perfect solution for you… so talk to the expert team at AroundBulgaria, and let us provide you with our reliable – and affordable – taxi services in Sveti Vlas.
The Advantages of our Sveti Vlas Taxi Service
There are a whole range of benefits you'll be able to look forward to, when you rely on the professional Sveti Vlas taxi services delivered by AroundBulgaria. Here are just a few of the features we offer:
We'll be able to take you anywhere you need to go to in Bulgaria – our taxi service covers the entire country.
Planning a business trip? Or maybe a cultural day out, or a trip to the beach. Whatever you have in mind, our flexible taxi service will be able to cater to your needs.
Whenever you need a taxi, we'll be able to deliver you a prompt and reliable service – with 24/7 bookings on offer.
Take your pick from our fleet of cars, SUVs, minibuses and minivans, and find the perfect vehicle for your taxi service.
Book a taxi with us and you'll automatically be covered by our full vehicle insurance policies.
We've got children's car seats on offer, as well as roof racks perfect for your large items of luggage or sports equipment.
For your added comfort, we even equip our vehicles with wireless Internet services!
We'd like you to make yourself at home in the car – so we offer you total control over music choices, and interior temperature.
We maintain all of our vehicles to a beautiful level of cleanliness, and completely smoke-free.
Book a Taxi Service in Sveti Vlas Today!
| | | | | | |
| --- | --- | --- | --- | --- | --- |
| From: | To: | Distance: | < 4 pers. | < 5 pers. | < 8 pers. |
| St. Vlas | Burgas | 41 км. | 30 € | 35 € | 45 € |
| St. Vlas | Varna | 94 км. | 55 € | 60 € | 75 € |
| St. Vlas | Istanbul Ataturk | 367 км. | 210 € | 235 € | 285 € |
Ready to get a competitive quote on your taxi service in Sveti Vlas? Give us a call, and our operators will set you up with an impressive deal. We can charge for taxis either by time or by distance, and we're always keen to find the deal that works best for our customers. The price you agree over the phone will then be fixed – which means you'll never need to worry about changes to rates, or hidden fees later on!
You'll never be asked for advance payments, but rather you can pay directly to your driver, on  the completion of your taxi service. We'll accept payments in a range of different currencies, including Russian Rubles, US Dollars and Euros.
We also provide a range of special offers and discounts to customers who book more than one trip with us. So if you're a corporate client, or a returning customer, be sure to ask your advisor about our attractive discounts when you call to book.
Regular taxi service
Other Local Taxi services: Step taxi.
The difference with our service is – the driver will not speak English, will not meet you in the arrivals, will accept only cash.
Get in touch with us today! Here at AroundBulgaria, we're looking forward to helping you get the most out of your holiday, with our range of reliable taxi services in Sveti Vlas and beyond.
How to Book a Transfer in Sveti Vlas
Quote
Send your requirements using the form below
Booking
We will send you an estimate and confirm details
Done!
Our driver will meet you at the airport or at your hotel
Book a Transfer in Sveti Vlas by filling the form below
Sveti Vlas
Fine-grained, golden-colored sand, well manicured recreation areas, luxury hotels and any types of entertainment centers – here you will find everything bundled in one place. A veritable paradise on Earth – that is how people describe Sveti Vlas, and it is not accidental that tourists from all corners of the world plan their vacations in this picturesque spot.
The beach area will not disappoint in the least, with the excellent conditions offered for sunbathing, and families can use the complimentary bus service and go to the Aquapark.
This is a place which is suitable for an ultra luxury vacation, but it also offers magnificent opportunities for all conventional tourist vacations. Inside each café, hotel, or even in the small streets, the ambience is homelike and incredibly cozy. That is why the sun-soaked Bulgarian resort has become popular all over the world.
Review Carine Allaire, 41 years,Lyon, France
I love travelling, and when an ex colleague called to invite me to Sveti Vlas, to stay in his apartment there, I accepted the invitation right away.

There were several flight choices, and I chose the one via Thessaloniki – I wanted not only to reach Bulgaria, but make the most until we came to the country and get to know Greece as we were passing.
AroundBuglaria.com helped me to organize and do my trip from the Thessaloniki Airport to Sofia and then to Sveti Vlas. The transfer, the excursion around Thessaloniki, the short excursions we delighted in while we were driving towards Sofia – everything was neatly prepared.

I really felt pampered, cared for, their important customer, and they strived to offer the most wonderful servicing all the time. I still gave the most positive impressions when I remember my visit and the journey from Thessaloniki to Bulgaria.

I want to share express my gratitude to the company!