Bucharest Airport (OTP) Transfer to Bulgaria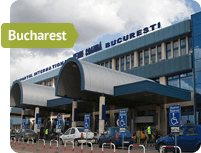 Are you planning a holiday to Bulgaria? With its pristine, golden beaches, its mountains, monasteries and rich local traditions, Bulgaria is fast becoming one of the most popular European destinations for an affordable cultural break. Then again, if culture isn't your thing then why not soak up the sun with a cocktail… or even hit the ski slopes?
Here at AroundBulgaria, we're perfectly prepared to help you get the most out of your trip to Bulgaria. We run a dedicated transfer service from Bucharest Airport in neighbouring Romania, which will take you smoothly and comfortably to your destination in Bulgaria… and what's more, we offer those services for some of the most competitive rates on the market.
Rates
Below you can find the rates of transfers from Bucharest Airport. If the transfer you are interested in is not included in the table, please send us a query, and you will receive the answer within two hours. When you contact us, don't forget to ask about the current discounts.
| | | | | | |
| --- | --- | --- | --- | --- | --- |
| From: | To: | Distance: | < 4 pers. | < 5 pers. | < 8 pers. |
| Bucharest | Sofia | 400 km. | 230 € | 250 € | 300 € |
| Bucharest | Burgas | 314 km. | 220 € | 240 € | 270 € |
| Bucharest | Varna | 269 km. | 150 € | 170 € | 200 € |
| Bucharest | Istanbul | 642 km. | 370 € | 400 € | 450 € |
| Bucharest | Pamporovo | 459 km. | 200 € | 230 € | 270 € |
| Bucharest | Borovets | 350 km. | 200 € | 230 € | 270 € |
| Bucharest | Sunny Beach | 413 km. | 220 € | 240 € | 270 € |
| Bucharest | Plovdiv | 384 km. | 200 € | 240 € | 270 € |
The Many Advantages of our Bucharest Transfer Service!
Our transfers from Bucharest Airport are some of the fast – and most affordable – airport transfers that you'll find. The benefits of booking a trip through AroundBulgaria don't stop there, though. Here are some more great reasons to be talking to us as you plan your visit to Bulgaria:
We'll cater to any group, any size – with a range of sleek, professional cars and even minibuses on hand to cater to your needs!
All of our drivers speak English, and will be only too happy to help you with any questions that you might have as you arrive.
Flight got delayed? That's no problem, our drivers will wait for you at the airport… and we'll never charge you any extra for the privilege.
As the majority of our vehicles come fitted with high-speed wireless Internet, you'll even be able to surf the web and check your emails while in transit.
We can accommodate all kinds of trip. Family groups will be able to access children's car seats, while our roof racks easily cater to your sporting equipment! Just let us know about any special requirements when you book your transfer.
Everything about our service is designed with your comfort in mind – from our clean, smoke-free vehicles, through to letting you have complete control over the air-conditioning and even the music player in the car.
Our rates for a Bucharest Airport transfer – serving any destination in the whole of Bulgaria – are already some of the cheapest you'll find. Added to that though, we also provide a range of discounts specially for our regular, returning or corporate customers. If you want to plan more than one journey with us, then remember to ask your advisor about special discounts when you book!
Book your Bucharest Airport Transfer Today!
Ready to take advantage of our leading transfer service between Bucharest Airport and destinations in Bulgaria? Just give us a call today, and our friendly advisor will be able to talk you through the booking process.
You'll be quoted a price at your time of booking, which will then be fixed – there's no need to worry about hidden charges, or extra fees when you travel with AroundBulgaria! We never ask for payments in advance either. Instead, you can simply pay your driver in person, once they've gotten you safely to where you need to be.
For your convenience, we'll also be able to accept payments in any currency that suits you. Not had a chance to buy any Bulgarian Levs yet? No need to panic! Our drivers can accept Russian Roubles, Euros or US Dollars instead.
To find out more about our affordable airport transfer services – or to book your trip from Bucharest to Bulgaria – just get in touch with the experts at AroundBulgaria today!
Book a Transfer from Bucharest Airport
Quote
Send your requirements using the form below
Booking
We will send you an estimate and confirm details
Done!
Our driver will meet you at the airport or at your hotel
Bucharest and its sights
The city was founded by a shepherd whose name was Bucur. Nowadays it is a gm among the most beautiful cities of Romania, and the country's capital since 1862. Its population is about 2 million.
The vast alleys with three lanes, the unusual beauty of park areas with lakes, pompous facilities of diverse kinds, these are all elements adding together to form the majestic appeal of Paris like type.
It is difficult to get lost in Bucharest. Even as far ago as ancient times, its buildings and even smallest streets were carefully planned.
If you are hungry, gourmet meals are awaiting you, and milk cocktails are a delight with their qualities and diversity. In the fall-winter period, the hotel rates are brought down, so it is a great period for vacations.
Review
Swen and Marcel, 27 years, Bärenbach, Germany
My brother and I had to travel, and it was an urgent trip. We had to reach from Romania to Bulgaria, on a trip for business. I was recommended the AroundBulgaria.com site by friends, so I used their services for a trip to Kiten. A driver of the company staff met us at Bucharest Airport, right at the agreed time. offered us to help us load our cases into the car (we politely said no, it was OK to carry them on our own),and drove us to the hotel. I liked greatly how the driver was all the time caring, taking heed of our comfort; he asked what kind of music we preferred to have playing, whether he should adjust the air-conditioning, and about other wishes we might have. We heard him talk fluent Russian, and we asked him if all the company drivers can speak and explain well in foreign languages, and he said yes. Soon the taxi approached the hotel, we paid and said goodbye, pleased with our driver. The taxi service for our transfer still makes us feel very satisfied with it!