Varna – Bucharest – Varna Transfer TAXI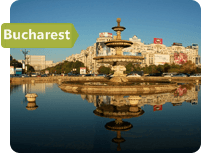 Enjoy your holiday or business trip, from the first moment you land at Varna Airport — avoid searching for transport to take you and your family to Bucharest, book a private transfer with AdroundBulgaria.com!
Trip Duration: 4:00hrs
Distance: 281 km
Price: 200 euro
Booking: use the booking form below, we will confirm your transfer
Payment: cash, VISA / MasterCard, bank transfer, PayPal
Vehicles: for 4, 5 and 8 passangers
Bucharest to Varna taxi is the same price.
The car will arrive in time, the driver will meet you in the airport waiting hall with a name plate, then lend you a hand to carry the baggage.
You will be taken to the very door of your hotel, and helped with your baggage out of the car.
To these let us add other reasons to book our service:
Excellent prices, a lot of discounts
We accept payments in the local and foreign currencies, as well as VISA
You decide the air-conditioning temperature
Safe and comfortable cars
Group transfer and individual taxi service
Varna – Bucharest Taxi Rates
| | | | | | |
| --- | --- | --- | --- | --- | --- |
| From: | To: | Distance: | < 4 pers. | < 5 pers. | < 8 pers. |
| Varna | Bucharest | 281 км. | 200 € | 220 € | 250 € |
| | | | | | |
Distance: 274 km | Driving time: 3 h 50 min | Cities passing through: Razgrad, Ruse
How to Book a Transfer from Varna to Bucharest
Quote
Send your requirements using the form below
Booking
We will send you an estimate and confirm details
Done!
Our driver will meet you at the airport or at your hotel
Book a Transfer in Varna by filling the form below
Other routes
More details on Bucharest
Bucharest and its sights The city was founded by a shepherd whose name was Bucur. Nowadays it is a gm among the most beautiful cities of Romania, and the country's capital since. Its population is about million. The vast alleys with three lanes, the unusual beauty of park areas with lakes, pompous facilities of diverse kinds, these are all elements adding together to form the majestic appeal of Paris like type.
It is difficult to get lost in Bucharest. Even as far ago as ancient times, its buildings and even smallest streets were carefully planned. If you are hungry, gourmet meals are awaiting you, and milk cocktails are a delight with their qualities and diversity. In the fall-winter period, the hotel rates are brought down, so it is a great period for vacations.