Varna to Sozopol Taxi Transfer Service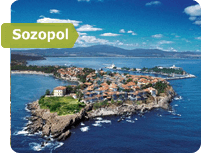 You need to book transfers in Bulgaria, but you do not trust the local services? Book a taxi with AdroundBulgaria.com — we highly value our clients, and we abide by high quality and punctuality.
Get convinced on your own, book a transfer-taxi Varna — Sozopol, and our driver will be waiting for you, you will see the name plate in his hands, and he will take you from the arrivals hall to the car, helping you with the baggage; then he will seamlessly drive you to Sozopol.
Transfer Details
From: Varna
To: Sozopol
Distance: 171 km
Trip duration: 3 hours 20 minutes
Vehicle choice: Sedans, minivans and 8+1 vans.
Pick up/Drop off – Varna airport or any location in Sozopol
Price: from 85€
Booking: Use the form below or WhatsApp us directly.
Payment: cash – Euros, Dollars and Pounds, Credit / debit card online.
Working hours: 24/7
Varna – Sozopol Transfer Rates
| | | | | | |
| --- | --- | --- | --- | --- | --- |
| From: | To: | Distance: | < 4 pers. | < 5 pers. | < 8 pers. |
| Varna Airport | Sozopol | 171 km | 85 € | 90 € | 105 € |
| Varna | Sozopol | 168 km | 85 € | 90 € | 105 € |
Here are some more advantages:
Free car seats for accommodating your children in the car
Free waiting of the taxi, if there is a delay with the flight
Excellent rates, abundance of discounts
You can pay in local and foreign currency, as well as VISA
You choose the music and air-conditioning temperature
Group transfers and transfers for individuals
How to book a transfer from Varna to Sozopol
Quote
Send your requirements using the form below
Booking
We will send you an estimate and confirm details
Done!
Our driver will meet you at the airport or at your hotel
Book a Transfer in Varna by filling the form below
Other routes
Varna to Sozopol Taxi / Transfer
Average rating:
1 reviews
Oct 2, 2018
Interesting mix of cultures
Watched a new Dodge pick-up going down the street behind donkey cart. There are ski resort towns where many signs are in English because of English tourists.
Curious details about Sozopol
The magnificent small town and resort Sozopol is renowned for its architectural sights and unique landscapes. On the outskirts is a nature reserve, comprising a river mouth. The reserve boasts a profusion of vines, bushes, verdant trees hugged by ivy.
The water expanse is adorned by white lilies. In the sea area of the reserve there are diverse marine animals, unique fishes, dolphins, and even seals. Not far from the town is Saint Ivan Island. Opposite the island rises a unique stone forest – one more outstanding feature of Sozopol.