Taxi-transfer Varna — Sveti Vlas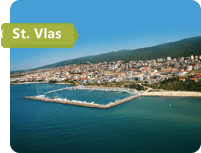 Book a taxi from Varna Airport to Sveti Vlas, and you will feel the vacation spirit the moment you find yourself in Bulgaria! Your dedicated English speaking driver will wait there, a name plate in hand; he will offer to carry your baggage, and drive you seamlessly to Sveti Vlas — to the doors of your hotel!
Insurance of passengers and cars
Fees are final, not subject to altering when you arrive
24/7, comprising holidays and weekends
Car seats, free, for children travelling with you
Free waiting at the airport
Booking of cars without preliminary fees
How to book a transfer from Varna to Sveti Vlas
Quote
Send your requirements using the form below
Booking
We will send you an estimate and confirm details
Done!
Our driver will meet you at the airport or at your hotel
Varna – Sveti Vlas transfer rates
| | | | | | |
| --- | --- | --- | --- | --- | --- |
| From: | To: | Distance: | < 4 pers. | < 5 pers. | < 8 pers. |
| Varna Airport | Sveti Vlas | 102 km | 55 € | 60 € | 75 € |
| Varna | Sveti Vlas | 97 km | 55 € | 60 € | 75 € |
Distance: 97 km | Driving time: 1 h 30 min
Varna to Sveti Vlas taxi / transfer
Average rating:
1 reviews
Oct 2, 2018
Great Service and Good Price
We (group of 8 people) had a flight scheduled for 6:50 AM and got in touch with Yuri to provide us the transfer from the hotel to the airport. We made the reservation per email around one week before our flight. The service was perfect and the price was good. The driver was 15min before the scheduled time in front of the hotel. I highly recommend their services.
Book a Transfer in Varna by filling the form below
Details worth learning about Sveti Vlas
Seasoned yachtsmen can give Sveti Vlas its due when conditions for holding regattas are concerned. That small resort town has spread an exquisite modern infrastructure on its area, comprising business centers, spa clubs, and cabinets offering modern relaxation techniques.
Along the coastline the space is dotted with inviting restaurants many of which are open 24/7, sumptuous hotels from whose windows you can feast your eyes at any time on the marine landscape and no less picturesque sights around.
For family vacations, a visit to the aquaparks located not far away is a great option for an outing. The nearest aquaparks can be reached using complimentary public transport.
Other routes